President's Letter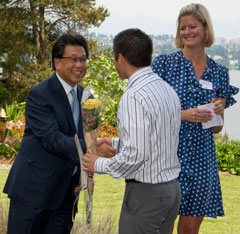 UWAA President-elect Eddie Pasatiempo congratulates scholarship recipient Jilberto Soto as UWAB president Anne Savery looks on at the June 2 Rhododendron Tea.
Congratulations 2009-2010 scholarship recipients!
2009 marks the 100th anniversary of the first UW scholarship awarded to a woman. The recipient was University of Washington junior Carrie Cowgill Thompson who, in 1946, returned the honor by founding the University of Washington Alumnae Board. Although the cost of tuition has risen considerably from Carrie's $100 scholarship, we continue her legacy now 63 years later.
On June 2, the UW Alumnae Board Rhododendron Tea was held at the home of President Mark Emmert and his wife, DeLaine. With the gardens and Lake Washington as a backdrop, Paul Rucker, new executive director of the UW Alumni Association, Eddie Pasatiempo, president-elect of the UWAA board of trustees, and Sue Williams, UWAA board member, each addressed the 14 award recipients and their families. I'd like to thank our speakers again for their words of welcome and inspiration to our students.
I am proud to announce the 14 scholarship recipients for the 2009-2010 school year:
Freshmen: Sarah Davis, Ekra Rai, Oliver Scheiss, Kimberly Smith, Cody Turner and Loren Wang
Sophmores: Sumi Kim, William Poole and Mahfuzur Rahman
Juniors: Manal Jmaileh, Vivian Lee and Jilberto Soto
Seniors: Ray Phua and Steven Simpkins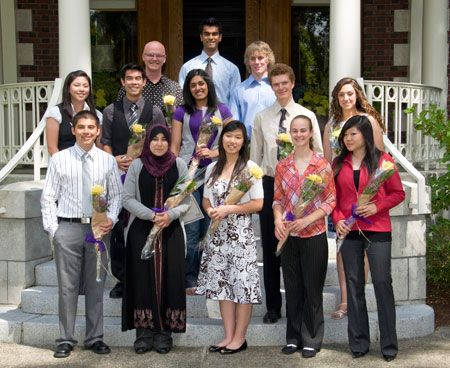 Scholarship recipients, front row, from left: Jilberto Soto, Manal Jmaileh, Sumi Kim, Kimberly Smith, Loren Wang. Middle: Vivian Lee, Ray Phua, Ekra Rai, Cody Turner, Sarah Davis. Back: Steven Simpkins, Mahfuzur Rahman, William Poole.
Congratulations to this year's scholarship recipients!
Anne Savery,
UWAB president, 2009