Another Successful Scholarship Luncheon in the Desert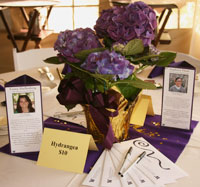 Photos and focus statements from several 2008-09 scholarship recipients served as table tents.
The fourth annual Coffee and Conversation luncheon was held March 16 at Toscana Country Club in Indian Wells, Calif. This scholarship event was coordinated by a committee of former UWAB members living in the Palm Springs area. The committee includes both winter and permanent residents of the Coachella Valley. They receive support from the UWAA and Assistant Director of Alumni and Student Programs Courtney Acitelli.
The fundraising event included a luncheon, boutique shopping with vendors, silent auction and a guest speaker: Howard Behar, former president of Starbucks International and author of It's Not About the Coffee: Leadership Techniques Learned at Starbucks. In appreciation, to add to his wall of framed mottos, Howard was presented with the framed motto, Changing Lives . . . One Scholarship at a Time.
Again this year, photos and focus statements from several of the 2008-2009 Alumnae Board scholarship recipients were displayed as table tents. The table tents, created by George Zeno, executive director of scholarships and student programs, made it possible to bring the scholarship recipients to life and were a powerful way to motivate guests to give generously.
DeLaine Emmert, Jackie Lee Houston and Howard Behar at the March 16 luncheon (at left). Behar accepts a framed motto from co-chair Kay deMars (at right).
The student profiles and the sincere and sensitive "ask" by Co-Chairwoman Kay deMars resulted in willingness by the guests to give to UW student scholarships. Proceeds from the luncheon this year made it possible for our desert group to fund one-plus scholarship.
We invite all UW alumni to join us for the 2010 Coffee and Conversation next March. The scholarship luncheon again will be held at the beautiful Toscana Country Club in Indian Wells during the UW's Dawg Days in the Desert. Please visit the UWAA Web site in January 2010 and look for the Dawg Days in the Desert invitation for details about the guest speaker and luncheon. See you there!
Kay de Mars and Kay Smith Larson
Co-Chairs, Coffee and Conversation