Former Board VP Receives Top Alumni Association Honor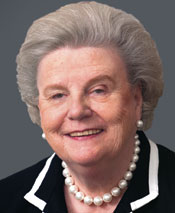 Kay Larson
In the 55 years since she graduated from the University of Washington, it seems Kay Larson's sleeves have been rolled up permanently in service to her alma mater. In addition to her four-year term and vice presidency with the Alumnae Board in the '70s, Larson has found countless opportunities to assist the UW. Need an alumna adviser for the UW's Kappa Kappa Gamma chapter? She'll do it, and eventually serve as international president too. Need someone to help field phone calls in the Tyee office, including a busy Rose Bowl season? Help with gathering classmates for the 25th and 50th reunions of the class of 1954? Participating in various duties for UW's Panhellenic organization?
Larson has done it all—and more. This year, the UW Alumni Association has recognized Larson as its Distinguished Service Award recipient, the highest honor bestowed upon UWAA volunteers and members.
Today, Larson continues to volunteer for the UW from her home in Rancho Mirage, Calif. She recently served as the volunteer coordinator for the Chow Down to Washington dinner, part of the Dawg Days in the Desert event featuring UW President Mark Emmert and head football coach Steve Sarkisian. Her idea to raise funds for UW Alumnae Board scholarships has grown into the annual Coffee and Conversation luncheon there, with all proceeds funding the group's full-tuition awards.
"Just like I always knew I wanted to go to the UW, I always knew I would be a volunteer afterward," she says. "I want people to feel good about the University. I want to be that connection for them."
Husky connections seem to be Kay Larson's specialty. Who else could help create a grassroots scholarship fundraiser a thousand miles from Seattle, and build it from 14 attendees to more than 100 in four short years? "I am just thrilled with what we're doing here," she says. So is her alma mater.
Photo by Mark Cieslikowski