Dixie (Stanley) Lysons—a Very Special Husky!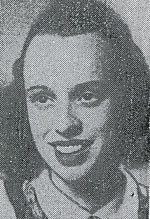 Dixie Lysons, 1946
Dixie graduated with a B.A. in 1938 and became a post-high school counselor at Franklin High School. She became friends with Lucille Thompson, daughter of Carrie Cowgill Thompson. In 1909 Carrie Cowgill Thompson was the first woman recipient of a scholarship from the University of Washington. In 1946 Carrie, Lucille and Dixie, along with three other women graduates formed the University of Washington Alumnae Board. Lucille served as the UWAB's first president and Dixie was elected president in 1947.
Dixie married her high school beau, Hilton Hayden Lysons in 1939. Hilton was also a UW graduate ('37, B.S. Mechanical Engineering). The couple settled in Seattle and raised one son, Donald Lysons, a second-generation UW grad ('63, B.A.; Res. '71, anesthesiology), who was appointed to the UW clinical faculty in the department of anesthesiology 1973-1983. Dixie's grandson, Joshua Lysons, graduated with a B.A. in 1996 from the UW and is currently working on his Ph.D. at the University of Chicago. Three generations of Huskies make Dixie particularly special not only to the University but to the UWAB as she continues to support its scholarship program.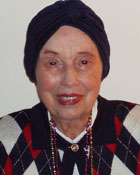 Dixie Lysons
When Dixie was counseling students from Franklin High School on choices they could make after graduating from high school, she would often receive letters from universities around the country looking for students she would recommend. One student she knew would be an excellent candidate for Yale who was seeking a more diversified student body. He was an honor student, competed on the swim team, and sang in the school choir. He was active in student government, an Asian American, and Dixie thought he would be a perfect fit at Yale. He was offered a "fantastic" aid and scholarship package and entered Yale in 1968. He graduated from Yale and earned his J.D. from Boston University Law School. He returned to Seattle and became the first Chinese-American governor in the United States, Washington Gov. Gary Locke. Dixie is very proud of her influence and mentoring of this young high school student.
This year marks the 100th anniversary of the first scholarship awarded to a woman at the University of Washington. Dixie, 94, who resides on Mercer Island and keeps up with the UWAB, continues to inspire UWAB members to keep the tradition of helping students achieve their full potential through awarding one-year, full-tuition scholarships to outstanding students who excel in academics, community service and have a strong work ethic. Thank you, Dixie!