Meet Susan Massey, Alumni Amgen Scholar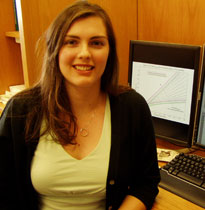 Susan Massey
Susan Massey, '08, always loved math. As a second grader, she started helping her teacher explain multiplication to her classmates. In sixth grade, she could have tested out of pre-algebra if there'd been a program to allow it. Susan's love of math and her personal experience with cancer has led her to where she is now, using mathematical models to understand and predict brain tumor growth—essentially creating the equivalent of weather forecasts for brain cancer.
Growing up in Cheney, Wash., Susan lived with her mother, younger sister and younger brother. While Susan was in high school, her mother was diagnosed with leukemia. Between school, working at an insurance firm and taking care of her younger brother, she continued to do well in school. "My family didn't really get my love of school," Susan said. "They would say, 'Why are you spending so much time on homework?!' They get it now, though." The struggle to get her mother's medication approved by her insurance company and stabilize her condition became part of Susan's everyday life.
In her senior year of high school, Susan broke both her arms, causing her to miss school and the deadline to confirm enrollment at UW. As the first person in her family to attend college, Susan started her freshman year at Eastern Washington University in Cheney. Susan sought a better fit for her interests in biology and math and transferred to UW for her sophomore year. At the same time, her mother's condition worsened. "The leukemia went from being chronic to very aggressive, so we needed to try to slow it down so she could get a marrow transplant," Susan said. At the end of Susan's sophomore year, her mother moved in with her in Seattle to participate in drug trials through the Fred Hutchinson Cancer Research Center.
"Going through this renewed my interest in biology and medicine," Susan said. Through the Undergraduate Research Program, Susan found her first project doing clinical research on long-term follow-up on bone marrow transplants. This was particularly timely for Susan as her mother had recently gone through a bone marrow transplant.
In 2007, Susan was chosen to participate in the inaugural year of the UW Amgen Scholars Summer Program, an intensive research program in science and technology, through the Undergraduate Research Program. Susan's faculty mentor for this project, Dr. Kristin Swanson, led Susan and one other student in researching brain tumors; predicting their growth and treatment using mathematical models. "I am so grateful for the chance to be an Amgen Scholar," said Susan. "It allowed me to focus on my academics and research full time, and still be able to pay my rent and take care of my mom."
Her research with Dr. Swanson, blending her passion for math with her desire to find answers to cancer, continued even after the summer program ended. "I was able to get funding from Boeing and through the McNair program [a program which prepares first-generation undergraduates for doctoral study through involvement in research and scholarly activities] to continue working with Dr. Swanson through my senior year," Susan said. Using biological data, Susan's research uses mathematical models to determine the best treatment for a brain tumor.
Since graduating, Susan continues to work with Dr. Swanson part-time. They are now studying how brain tumor growth is affected by chemicals in the body—the "environment"—to understand how tumors progress. Susan and Dr. Swanson study glioblastoma multiforme, the same kind of tumor Sen. Ted Kennedy was diagnosed with, and one of the most uniformly aggressive cancers.
"It doesn't start as a mass," Susan explained. "Often, the cancer can be there for a year before it shows up on an MRI or causes any symptoms. Since we know these tumors get such a head start before treatment, we use a mathematical model to project back and tell when the tumor actually started growing. We also work with a variety of biomedical researchers to better link what we see on the MRIs with the biological complexity of the tumor. This has implications for how to treat the cancer and the tumor."
Susan hopes this research enables drug developers to create a drug that considers the environment of the tumor and yield a more effective treatment.
In addition to continuing her research at the University of Washington, Susan has applied to graduate school at New York University in computational biology and at the UW in applied mathematics.
"It was really the opportunity through the Amgen Scholars program that led me to work I do now and aim to continue."