Update: Peter Kithene
You may have heard of Peter Kithene—founder of Mama Maria Kenya, a 2007 CNN Hero and one of the UW's Wondrous 100 Alumni—before. But you may not know that Peter's involvement with Undergraduate Academic Affairs' programs facilitated his public service efforts.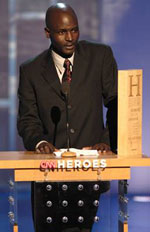 Peter Kithene receives the 2007 CNN Hero Award.
Peter has been drawn to public service since he was a child, though he didn't know that was what it was called. "From grade school, I tried to raise money for my classroom, and in high school I continued volunteering," he said.
Peter was so involved with his community that his high school principal told him he "had a high tendency to be drawn toward helping and improving the community." In Peter's mind, he was just doing what felt natural. After finishing high school with high grades, he volunteered in village schools instead of getting a paying job. "People didn't understand why I would do that," Peter said. "I could get any job." But Peter's passion for giving back to the community led him to continue his volunteering.
When Peter came to the University of Washington in 2001 to pursue his bachelor's degree, he found opportunities to connect his academic work to public service through Undergraduate Academic Affairs programs such as the Carlson Leadership & Public Service Center, earning a Mary Gates Leadership Scholarship, Munro Public Service Fellowship and the Edward E. Carlson Student Leadership Award. "It was very encouraging," Peter said. "To have an award named after Bill Gates' mother encouraging me! I felt very encouraged and it had a big impact on me. I felt supported and loved. I felt like it was where I belonged—to have people providing opportunities and people to encourage me."
Compelled by his own personal experiences of losing his mother at 11, his father at 12, and six siblings to treatable diseases, Peter opened Mama Maria Kenya in Muhuru Bay, Kenya, in August 2005, his junior year at UW. Mama Maria Kenya initially provided ambulances to help villages gain access to emergency medical care; Peter also prioritized treating the most common endemic diseases.
The future of Mama Maria is bright. "I hope to share the model of the clinic and create highly skilled clinics with reliable medication and staff elsewhere." Mama Maria was also recently moved into an expanded clinic and will break ground for a second clinic in Nakuru, Kenya, before the end of 2009.
Since winning the 2007 CNN Hero Award, Peter is amazed by the response he has received. "It helped a lot. The response became completely different—people take me seriously now! The perception of what I am doing has changed for the better, and finding help is easier."
Peter earned his bachelor's degree in psychology in summer 2007. Peter and his family moved to Kenya in December 2008, to continue their work with Mama Maria and to share what he has learned from his time at UW and in Seattle. "I am very grateful to the University of Washington and to the scholarship donors for the opportunity I received. My studies at UW have changed my world and my perspective."