Ruth Huber, '89, Named 2009 Distinguished Alumna
Dr. Ruth Huber, Ph.D '89, is the recipient of the 2009 Distinguished Alumna Award from the University of Washington School of Social Work. In the 20 years since Huber earned her Ph.D. she has distinguished herself through outstanding service and innovation in the areas of social work education and professional leadership.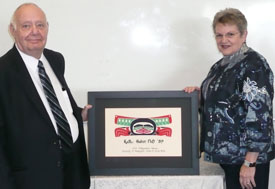 Don and Ruth Huber with her award.
Huber began her college career at age 46. Previously, she was busy rearing four children while also working full time as a secretary. When Huber's mother became terminally ill, Huber cared for her at home until her death. This experience left an indelible impression on her and she gained an interest in providing support to terminally ill individuals, their families and friends. In 1982, Huber entered Tulsa (Oklahoma) Junior College and by 1986 she had earned her MSW from the University of Oklahoma. Huber gained an appreciation of research as a tool to assist front-line social workers in providing more effective and efficient services to clients and this, along with her dedication to providing support to the terminally ill and their families, led her to pursue her Ph.D. at the University of Washington School of Social Work.
Since receiving her Ph.D., Huber has shared her passion for research with students in a variety of positions at the University of Louisville's Kent School of Social Work. From 1996-98 Huber chaired the research sequence for the MSSW program, providing leadership and a conceptual base on which the current program is built. In 1996, Huber helped to develop the first Ph.D. in Social Work in Kentucky and became the first, and at present, only director of Kent School's Ph.D. Program at the University of Louisville. Huber has developed numerous courses and overseen the development of the program in its entirety. To date, the Ph.D. program has produced 46 graduates and Huber has served as the chair for 16 of these committees and was a member on 14 others. Currently, 33 of these graduates hold faculty positions in universities throughout the country (another is the director of Special Needs Services for the U.S. Air Force).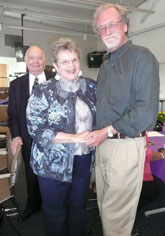 Ruth Huber with Roger Roffman, her former professor. In back husband Don Huber looks on.
In addition to her dedication to social work education and professional leadership, Huber has also maintained an active scholarly agenda. She has a lengthy record of peer-reviewed and published scholarship demonstrating a consistent pattern of scholarly engagement and achievement. Huber's research has yielded considerable practical application. Her expertise in the National Long Term Care Ombudsman Program has brought her national attention and respect for the contribution of that work to care for the elderly; her research related to hospice has made her a leading scholar in outcomes for the National Hospice and Palliative Care Organization; and her recent book on elder advocacy will set the standard for the knowledge and skills necessary for advocating for elders.
In addition to the 2009 Distinguished Alumna Award, Huber is the recipient of numerous awards recognizing her leadership, teaching, and community engagement.