Study Hints at Link to Depression, Premature Births Among Blacks
Preterm births are one of the most significant health disparities in the United States, and the overall number of these births increased from 10.6 percent in 2000 to 12.8 percent in 2005," says the study's lead author, SSW Assistant Professor Amelia Gavin.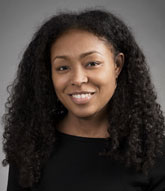 Amelia Gavin
Study Abstract: We examine associations between race, pre-pregnancy depressive mood and preterm birth (less than 37 weeks gestation) in a cohort study of 555 black and white women in the Coronary Artery Risk Development in Young Adults (CARDIA) Study. We tested for mediation of the association between race and preterm births by pre-pregnancy depressive mood among the sample.
Black women had significantly higher levels of pre-pregnancy depressive mood (modified CES-D score 13.0 vs. 9.5; t = -4.64;
p < 0.001). After adjustment for covariates, black women had 2.70 times the odds of preterm birth than white women (95% confidence interval [CI]: 1.41, 5.17). When adding pre-pregnancy depressive mood to this model, higher depressive mood was associated with greater odds of preterm birth (odds ratio [OR]: 1.04; 95% CI: 1.01, 1.07); and the effect of black race was attenuated (OR: 2.47, 95% CI: 1.28, 4.77). Our data suggest that pre-pregnancy depressive mood may be a risk factor for preterm birth among black and white women.
Here is a partial listing of media coverage of the report: