Letter from the Dean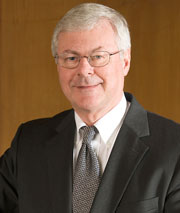 Dean Thomas A. Baillie
Welcome to the first edition of the UW School of Pharmacy's e-newsletter. I am pleased to have another way to connect with you—our valued alumni, friends and members of the pharmacy community. Further, I am proud to highlight the amazing work of our faculty, students and alumni in the articles you'll find herein.
I would also like to take this opportunity to talk briefly about something on many people's minds these days: the economic downturn. As you know, the University of Washington is facing significant reductions in state support for the 2009-'11 biennium. The School of Pharmacy is not exempt from these budget cuts.
We are working actively, however, to explore ways to mitigate the effects of these potential reductions—through increases in efficiency, cost-avoidance measures and identification of new revenue sources. By being proactive, we hope to have strategies in place before the state budget is finalized in May that allow us to maintain our high-quality teaching and research missions.
In the meantime, our faculty and students continue to demonstrate their commitment to excellence. I'd like to point out a few of the School's recent triumphs:
In 2008, we were ranked No. 5 in the nation by U.S. News & World Report. That's no small feat given that we are in the company of more than 100 pharmacy schools with many exceptional programs.
A team of faculty from the Departments of Medicinal Chemistry, Pharmaceutics and Pharmacy were recently awarded $5 million from the National Institute of General Medical Sciences at the National Institutes of Health to continue their study of drug-drug interactions. This grant allows our researchers to move forward with their groundbreaking research on an important area of study for therapeutics and human health.
The School's medication-therapy-management (MTM) pharmacy opened its new location in Seattle's University District last month. The MTM program was created last year, and it is yet another example of how the School combines teaching and research with community partnerships and public service.
And as always, our students continue to excel in their wide-ranging pursuits. Nowhere is that more evident than in our lead story. There, you can read about a group of Pharm.D. students who were recently recognized by the American Association of Colleges of Pharmacy for their tireless outreach efforts to improve public health.
All these achievements allow the School to maintain its place as a leader among peer institutions and in the pharmaceutical and pharmacy communities.
You—our alumni and supporters—play an integral role in our success. Thank you for helping to make our School one of the nation's best. During these uncertain times, your support is now more important than ever.
On a personal note, we hope you'll contact us if you have feedback, questions and suggestions about this e-newsletter or about the School. And I hope to see you at one of our upcoming events.
Best wishes,
Thomas A. Baillie, Ph.D., D. Sc.
Dean, UW School of Pharmacy