Students' Outreach Garners National Acclaim
By Melinda Young
When pharmacy students enter the UW School of Pharmacy, they become part of a long tradition of engagement in public-health and community-health efforts. Indeed, Pharm.D. candidates stay active in a dizzying array of community-outreach programs—primarily on their own time and not for academic credit.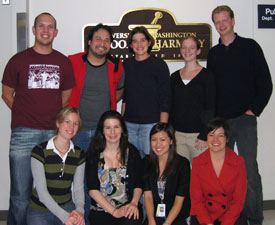 The AACP award-winning team members and classmates, clockwise from back left: Paul Algeo, Luis Ramos, Abby Frye, Petey Sonnett, Michael Ayres, Kim Moody, Joanna Ho, Tahnee Marginean and Emily Schulze.
Recently, a group of eight students received national acclaim for just such efforts. The American Association of Colleges of Pharmacy (AACP) honored them with one of its first-ever Student Community Engaged Service Awards.
The award—which carries an $18,500 prize with it—recognizes student-led community outreach projects that encourage service learning. The winning team's projects included immunization clinics at McNeil Island Corrections Center, health-screening programs at Seattle's Aloha Inn transitional facility and health-literacy workshops at Seattle's International Community Health Services Clinic, among many others.
Leading these efforts were Paul Algeo, Abby Frye, Joanna Ho, Tahnee Marginean, Kim Moody, Luis Ramos, Emily Schulze and Patricia "Petey" Sonnett.
"I've had the privilege of working closely with these students on a variety of projects," said Nanci Murphy, associate dean and student adviser, "and they should be commended for their leadership, creativity, work ethic and compassion for others."
These were just the kinds of characteristics that the AACP sought in its award recipients. The organization looked for projects that met certain objectives, including expanding service access to underserved populations, promoting access to affordable health care, and meeting the goals of Healthy People 2010—a U.S. surgeon general-sponsored program focused on reducing health disparities.
The program at McNeil Island Corrections Center serves as a prime example of UW pharmacy students' dedication to helping reduce health disparities. During the past several academic years, students have traveled to the facility located more than an hour's drive from Seattle and accessible only by a 20-minute boat ride across the Puget Sound on a facility-run vessel.
Under the direction of preceptor Nicole Gerdes, '05, the students provided flu shots, tuberculosis (TB) tests and Hepatitis A and B immunizations to inmates.
"The students provided protection and prevention against potentially deadly infectious diseases," said Gerdes. "Even one case of the flu or TB would have a huge negative impact for inmates and staff because of the close living quarters in correctional facilities."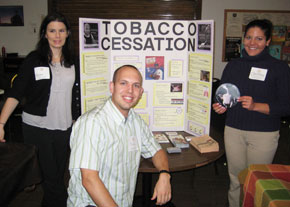 Pharmacy students Tahnee Marginean, at left, Paul Algeo and Christine Brooks helped to organize last fall's second annual Salvation Army Adult Rehabilitation Center health fair, one of the many projects recognized by the AACP.
She added that the facility is facing budget challenges and a shortage of nursing staff. So if not for this program, the corrections center simply might not have been able to provide these resources to the inmates.
A lack of adequate health care for many prisoners is a significant public-health issue in the United States today. The consequences reach beyond the prison system, affecting friends and family who visit the inmates and, in some cases, the communities the prisoners return to when they get out of jail, according to the American Public Health Association.

So the students' efforts to protect the health of prisoners at McNeil Island can have positive ripple effects.
Further, "working with underserved populations is incredibly rewarding," said Abby Frye, the student leader on the McNeil Island project. "Sometimes during pharmacy school, it is easy to get caught up in learning the therapeutics and memorizing things for tests. But this kind of outreach reminds me of the type of pharmacist I want to be and the impact I hope to have."
The AACP award money will allow Frye and her teammates to continue to make this kind of impact. They plan to use the money to further develop the McNeil Island outreach project as well as to expand upon and implement many other public-health programs.
Additionally, the funds will help create a community-outreach resource center for students in the UW School of Pharmacy. It will be named Bridges to Health in honor of Shirley Bridge, '45, a long-time advocate for pharmacy outreach and supporter of the School who passed away last year.
Ultimately, the students who won the award are looking forward to building on their outreach efforts. And they're grateful for what they've learned thus far.
"The experience [the students] have gained in coordinating these projects has been invaluable," said Petey Sonnett.
For her, the efforts she has engaged in while at the School of Pharmacy have inspired her to create more programs that can improve the health of others. "I plan to continue coordinating projects and educational experiences wherever my path may take me," said Sonnett.
She and her adviser, Nanci Murphy, will accept the award at the AACP meeting this month in Virginia.
Photos courtesy UW School of Pharmacy