March 2014 | Return to issue home
The Mountaineers photo albums available online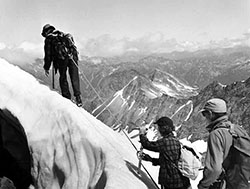 The Mountaineers Club, founded in 1906, began their tradition of summer outings in 1907 with a three-week expedition to the Olympic Peninsula. The Mountaineers captured the adventures of this and subsequent outings in photographs, which were captioned and assembled into photo albums for the club and individual members.

These online albums depict some of the first major expeditions of the Mountaineers, including the first major outing to Mt. Olympus in 1907. Other areas represented in the collection include Mt. Rainier, Mt. Baker/Glacier Peak, Mt. Stuart/Mt. Daniel, Mt. Adams, Canada, Montana and various locations in the western United States. The Mountaineers promoted the discovery, conservation and documentation of the "mountains, forests and watercourses of the Pacific Northwest."

View the album collection.

Photo: Mountaineers photo of Olympic Park, 1951, from the University of Washington Libraries, Special Collections Division. PH Coll 341.
March 2014 | Return to issue home
SUPPORT STUDENTS
Your gift to the Libraries can support student employee scholarships, student research awards, technology, digital initiatives and more.
---
Upcoming EVENTS
April 15: Part one of the Seattle Arts & Lectures Series with John Delaney from the UW School of Oceanography: Our Global Ocean: The Ultimate Planetary Life Support System--New Approaches to an Old Ocean.
May 1: Dangerous Crossings: Race, Species and Nature in a Multicultural Age. An exploration of how to address multiple worldviews that vary in cultural acceptance with Professor Claire Jean Kim.
May 31: UW Day with the Sounders. Enjoy discounted tickets to see the Sounders take on Real Salt Lake. A portion of ticket sales goes to UW scholarship programs.
---
uw ALUMNI ASSOCIATION
This newsletter is produced in partnership with the UW Alumni Association to support UW Libraries and to keep you connected to the UW alumni community.
UWAA members enjoy great discounts, access to career services and lifelong learning opportunities and more. Do you love the UW? Then you've got to be a member! Join now.
---
CONNECT WITH US