March 2014 | Return to issue home
Medal of Freedom given to UW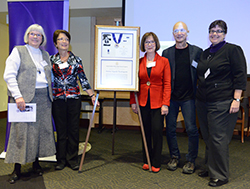 On February 22, Susan Carnahan, widow of Gordon Hirabayashi, presented the Presidential Medal of Freedom awarded posthumously to Hirabayashi by President Obama in 2012. UW Provost Ana Mari Cauce accepted the Presidential Medal on behalf of the UW.

The medal is part of the collection of Hirabayashi's journals, recordings, legal papers and photographs that the family has donated to Libraries Special Collections, where they are open for students, researchers and the public. Plans to digitize portions of the collection are underway.

"Courage in Action: A Symposium on the Life and Legacy of Gordon K. Hirabayashi" was in observance of the University of Washington's annual Day of Remembrance.

Judge Mary Schroeder, who wrote the 1987 opinion vacating Hirabayashi's curfew and exclusion convictions on proof of the allegations of governmental misconduct [Hirabayashi v. United States, 828 F.2d 591 (9th Cir. 1987)], presented her talk, "Gordon Hirabayashi's Timely Lessons about Courage."

Read more.

Photo: Presentation of Gordon Hirabayashi's Medal of Freedom by (from left) Susan Carnahan (widow of Gordon Hirabayashi), Marion Oldenburg (daughter of Gordon), Sharon Yuen (daughter of Gordon), Jay Hirabayashi (son of Gordon) and Ana Mari Cauce, University of Washington Provost.
March 2014 | Return to issue home
SUPPORT STUDENTS
Your gift to the Libraries can support student employee scholarships, student research awards, technology, digital initiatives and more.
---
Upcoming EVENTS
April 15: Part one of the Seattle Arts & Lectures Series with John Delaney from the UW School of Oceanography: Our Global Ocean: The Ultimate Planetary Life Support System--New Approaches to an Old Ocean.
May 1: Dangerous Crossings: Race, Species and Nature in a Multicultural Age. An exploration of how to address multiple worldviews that vary in cultural acceptance with Professor Claire Jean Kim.
May 31: UW Day with the Sounders. Enjoy discounted tickets to see the Sounders take on Real Salt Lake. A portion of ticket sales goes to UW scholarship programs.
---
uw ALUMNI ASSOCIATION
This newsletter is produced in partnership with the UW Alumni Association to support UW Libraries and to keep you connected to the UW alumni community.
UWAA members enjoy great discounts, access to career services and lifelong learning opportunities and more. Do you love the UW? Then you've got to be a member! Join now.
---
CONNECT WITH US