March 2014 | Return to issue home
Library collaboration to unveil Chinese treasures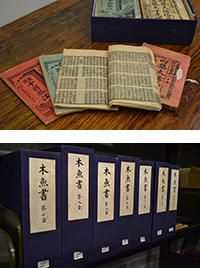 Thousands of long-hidden literary treasures from two of the top Chinese collections in North America will soon be accessible thanks to a unique library project.

The University of Washington and supporting partner, University of British Columbia Library, have been awarded a grant from the
Council on Library and Information Resources (CLIR).

The Cataloging Hidden Special Collections and Archives grant, worth $183,500, is for a project entitled "Discovering Modern China: University of Washington (UW) & University of British Columbia (UBC) Collections."

This project involves the cataloging of special Chinese-language materials at the UW's East Asia Library and UBC's Asian Library. It is set to begin on June 1, 2014 and wrap up within 18 months. When finished, up to 2,000 special Chinese publications, including pre-modern texts and rare publications of the Chinese Republican era, will be made accessible to scholars worldwide.

"The 'Discovering Modern China' project is an incredible opportunity to make widely accessible significant Chinese collections owned by the University of Washington and the University of British Columbia," says Lizabeth (Betsy) Wilson, UW's Dean of University Libraries. "We are grateful to CLIR for its generous support of this cross-boundary collaboration, which ultimately will benefit scholars and students worldwide."

"UBC Library is excited to work alongside the University of Washington on this innovative partnership," says Ingrid Parent, UBC's University Librarian. "Our work will help both institutions bring to light an array of amazing Chinese materials for research, teaching and learning." UW's collection focuses on 20th-century publications while UBC's collection is strong in the area of pre-modern books,. Materials date from 1600 to 1949, and include books, manuscripts and letters that cover topics such as the social sciences, literature, the humanities and traditional medicine.


About CLIR

CLIR's Cataloging Hidden Special Collections and Archives program, is generously supported by The Andrew W. Mellon Foundation. CLIR

(www.clir.org)

is an independent, nonprofit organization that forges strategies to enhance research, teaching and learning environments in collaboration with libraries, cultural institutions and communities of higher learning. It aims to promote forward-looking collaborative solutions that transcend disciplinary, institutional, professional and geographic boundaries in support of the public good.
March 2014 | Return to issue home
SUPPORT STUDENTS
Your gift to the Libraries can support student employee scholarships, student research awards, technology, digital initiatives and more.
---
Upcoming EVENTS
April 15: Part one of the Seattle Arts & Lectures Series with John Delaney from the UW School of Oceanography: Our Global Ocean: The Ultimate Planetary Life Support System--New Approaches to an Old Ocean.
May 1: Dangerous Crossings: Race, Species and Nature in a Multicultural Age. An exploration of how to address multiple worldviews that vary in cultural acceptance with Professor Claire Jean Kim.
May 31: UW Day with the Sounders. Enjoy discounted tickets to see the Sounders take on Real Salt Lake. A portion of ticket sales goes to UW scholarship programs.
---
uw ALUMNI ASSOCIATION
This newsletter is produced in partnership with the UW Alumni Association to support UW Libraries and to keep you connected to the UW alumni community.
UWAA members enjoy great discounts, access to career services and lifelong learning opportunities and more. Do you love the UW? Then you've got to be a member! Join now.
---
CONNECT WITH US