Jan. 2014 | Return to issue home
Odegaard Library renovation receives national AIA honor
>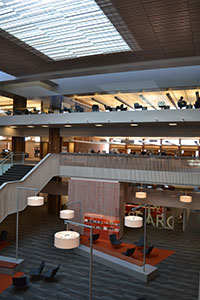 The interior renovation of this library at the University of Washington not only transformed an outmoded 1970s-era building but also reimagined the learning experience for students in the 21st century. The project also recognizes the inherent sustainability in renovation and reuse of a facility versus building new. Removal of the building's most dominant feature, the imposing central staircase, essentially "found" an additional 6,000 square feet of previously underused space, the equivalent of 36 dorm rooms.
Constructed 40 years ago with few updates since, the massive 165,000-square-foot building could no longer keep pace with changes in learning, technology, and energy use and was long overdue for an update. The architect worked with faculty to identify a set of learning behaviors the building needed to support, then developed an architectural "kit of parts" to address each one: active learning, discovery of collection, consultation, prototyping, informal learning, individual study, and production. Each piece of the kit is color coded to highlight its significance in the academic experience.

Read more.
Photo: Odegaard Library interior, photo by AC Petersen.
Jan. 2014 | Return to issue home
SUPPORT STUDENTS
Your gift to the Libraries can support student employee scholarships, student research awards, technology, digital initiatives and more.
---
Upcoming EVENTS
Feb. 19: Drs. Randall O'Reilly and Chantel Prat will discuss The Neuroscience of Good Decision Making as part of the 2014 Allen L. Edwards Psychology Lecture Series.
Feb. 27: Career (Re)Launch, a workshop for alumni who are looking to land their first job or transition to a new role after being in the workforce for several years.
March 11: Former president of Starbucks, Howard Behar, joins his daughter, the co-founder of GROW Parenting, in Life Skills for Leaders: An Empowering Talk for Teens + Parents.
---
uw ALUMNI ASSOCIATION
This newsletter is produced in partnership with the UW Alumni Association to support UW Libraries and to keep you connected to the UW alumni community.
UWAA members enjoy great discounts, access to career services and lifelong learning opportunities and more. Do you love the UW? Then you've got to be a member! Join now.
---
CONNECT WITH US