Jan. 2014 | Return to issue home
Welcome Justin Johnson, senior conservator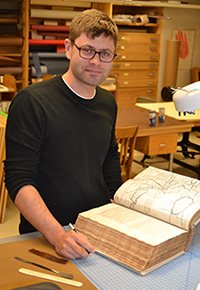 Justin Johnson judges books by their covers...and their pages and their bindings. As the Libraries new senior conservator, he's passionate about slowing the decay of crumbling volumes in the library.

"This position will and has enabled us to do a level of work that we never would have been able to do in the past," UW Libraries Head of Preservation Services Stephanie Lamson said. The Libraries in autumn 2012 received a $1.25 million challenge grant from the Andrew W. Mellon Foundation, and now has just two years to raise the remaining $500,000 to match the funding to support the position permanently.

Johnson started work at UW last September. Having a senior conservator on staff fills a vital need for both the university and the Pacific Northwest.
Conservators work to counteract deterioration in objects of historical significance, from paintings to clocks, but there are few located in the Pacific Northwest. In the past, items from UW would be sent away for conservation treatments. Maybe ten of the university's more than seven million volumes would be treated over the course of several years, Lamson estimated.

Now, a full-time, professional staff member can maintain books, maps, photographs, and other fragile documents in-house. "There's tremendous unmet need when it comes to that," Lamson said. The grant will also allow UW to train future conservators, and give them a necessary leg-up in a highly competitive field.

"When I was getting into conservation there was no one anywhere in the area that I could learn from," said Johnson, who is originally from the Seattle area. Originally he wanted to be a librarian, but Johnson found the day-to-day realities of the job weren't quite what he was looking for. When a mentor recommended conservation, he was intrigued.

"The book is an artifact...it's a record of something that happened in history that was important," Johnson said.

Photo: Justin Johnson with History of the World, by AC Petersen.
Jan. 2014 | Return to issue home
SUPPORT STUDENTS
Your gift to the Libraries can support student employee scholarships, student research awards, technology, digital initiatives and more.
---
Upcoming EVENTS
Feb. 19: Drs. Randall O'Reilly and Chantel Prat will discuss The Neuroscience of Good Decision Making as part of the 2014 Allen L. Edwards Psychology Lecture Series.
Feb. 27: Career (Re)Launch, a workshop for alumni who are looking to land their first job or transition to a new role after being in the workforce for several years.
March 11: Former president of Starbucks, Howard Behar, joins his daughter, the co-founder of GROW Parenting, in Life Skills for Leaders: An Empowering Talk for Teens + Parents.
---
uw ALUMNI ASSOCIATION
This newsletter is produced in partnership with the UW Alumni Association to support UW Libraries and to keep you connected to the UW alumni community.
UWAA members enjoy great discounts, access to career services and lifelong learning opportunities and more. Do you love the UW? Then you've got to be a member! Join now.
---
CONNECT WITH US