Jan. 2014 | Return to issue home
Blanche Payne costume collection online
>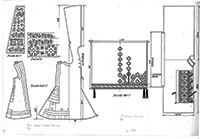 During the early part of the 20th century when it was considered unusual for a woman to travel alone, Blanche Payne visited many locations to document disappearing folk costume. Professor Payne, who taught costume history and apparel design at UW, was truly a pioneer in her field. She produced a seminal text on fashion history, "History of Costume," as well as an unpublished manuscript on folk costume from the former Yugoslavia. After Payne's death, her collected costume materials came to be stored in the collection of the Henry Art Gallery, while the archival materials traveled to Libraries Special Collections.

The materials in this database are a selection of approximately 1,200 photographs, postcards, pattern sheets and watercolor paintings.

View the Blanche Payne Regional Costume Photograph and Drawing Collection.

Photo: Scale drawings of a blouse and short jacket (sadak) from Obrovac, Croatia, ca. 1930-1937.
Jan. 2014 | Return to issue home
SUPPORT STUDENTS
Your gift to the Libraries can support student employee scholarships, student research awards, technology, digital initiatives and more.
---
Upcoming EVENTS
Feb. 19: Drs. Randall O'Reilly and Chantel Prat will discuss The Neuroscience of Good Decision Making as part of the 2014 Allen L. Edwards Psychology Lecture Series.
Feb. 27: Career (Re)Launch, a workshop for alumni who are looking to land their first job or transition to a new role after being in the workforce for several years.
March 11: Former president of Starbucks, Howard Behar, joins his daughter, the co-founder of GROW Parenting, in Life Skills for Leaders: An Empowering Talk for Teens + Parents.
---
uw ALUMNI ASSOCIATION
This newsletter is produced in partnership with the UW Alumni Association to support UW Libraries and to keep you connected to the UW alumni community.
UWAA members enjoy great discounts, access to career services and lifelong learning opportunities and more. Do you love the UW? Then you've got to be a member! Join now.
---
CONNECT WITH US