Pulitzer Winner to Give the Maxine Cushing Gray Fellowship Lecture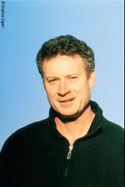 Join the Libraries and Timothy Egan, UW alumnus and author of the New York Times "Opinionator" weekly column, for the Maxine Cushing Gray Fellowship Lecture.
Egan's most recent book, "The Big Burn – Teddy Roosevelt and the Fire that Saved America," was a New York Times bestseller and a winner of the 2009 Pacific Northwest Booksellers Award.
His book on the Dust Bowl, "The Worst Hard Time," won the 2006 National Book Award for nonfiction. He also shares a 2001 Pulitzer Prize for his work with New York Times reporters on the series, "How Race is Lived in America."
The Gray Fellowship, created to honor the late Maxine Cushing Gray, seeks to honor her contributions to journalism, and her tireless work to recognize and encourage excellence in writing.
When: Friday, November 9, 7 p.m.
Where: Suzzallo Library Room 102
RSVP: E-mail uwlibs@uw.edu or call 206-616-8397.
(Photo by Sophie Egan)