KUOW Reporter Reveals "Secrets of a Blonde Bombshell"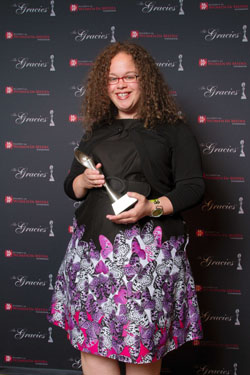 Credit KUOW editor Phyllis Fletcher's motion sickness for her preference for online searches of the Libraries digital newspaper collection.
Years ago, Fletcher was searching through microfilm in Suzzallo Library when the motion became too much. "I knew something bad was happening. I got up and ran to the ladies' room. And then, something bad did happen. Sorry! Gross, but true," she laughingly recalls.
One day last year, Fletcher was in the station's music library, preparing to fill in as host of "The Swing Years and Beyond." The regular host showed her a CD by Ina Ray Hutton, who in the 1930s conducted, tapped, and sang as the "blonde bombshell bandleader" in front of her all–female swing band, the Melodears.
It led to an award-winning story.
Fletcher looked at the CD cover and was struck by the thought that Hutton "looked black," even though she had been performing as a white woman. "Her forehead, her cheekbones, and her lips" were the clues that Fletcher zeroed in on. The thought launched an effort that resulted in the award-winning show, "Secrets of a Blonde Bombshell," which examines Hutton's life, music, and identity.
In addition to searching Census records, Fletcher researched the online libraries archives of the Chicago Defender, an African-American community newspaper. It turned out to be "the key resource to establish that Ina and her family had lived and identified as black people for decades," she recalls.
Hutton grew up in the African-American community in Chicago, where she took dance classes as Odessa Cowan on the South Side. She was discovered at eight years old by a white vaudeville producer. As a teenager, she took the name Ina Ray Hutton and entered the world of show business. Hutton's career continued through the 1960s in clubs, in movies, on TV, and on the USO circuit.
Passing for white was not uncommon, but it came with its own challenges relating to family and culture, which Fletcher explores though interviews and research. The best part? She didn't need to view microfilm.
"Secrets of a Blonde Bombshell" was broadcast nationally on PRI's Studio 360, garnering Fletcher a slew of awards. She won the Gracie Award, given by The Alliance for Women in Media Foundation, a UNITY award, and in October 2012, an Edward R. Murrow Award honoring excellence in electronic journalism.
Listen to Fletcher's story below, or visit Studio 360 for more information and a video of Hutton.