Husky Reels Project Takes Shape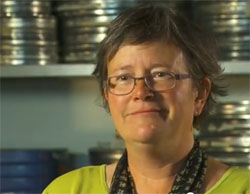 Hannah Palin, film archives specialist in Libraries Special Collections, reports that "the films and videotapes out at Sand Point are starting to resemble an actual collection!" The films are part of the Husky Reels project, which aims to preserve and archive more than 7,000 films and reels of UW athletics. The five-year project is in its first year.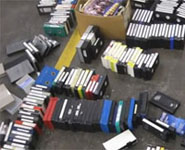 All of the videotapes are now organized by sport and by year, two viewing stations have been set up, staff are spot-checking videotapes for condition and content, and five reels of football from 1936 have been identified, including games with Oregon State, UCLA and Stanford. The football reels are especially exciting discoveries; we had previously thought that only one reel of film from the 1936 season was in the collection. Learn more about the project.
View a video about the Husky Reels preservation project: (3:31)