Exploring Indian Art and Architecture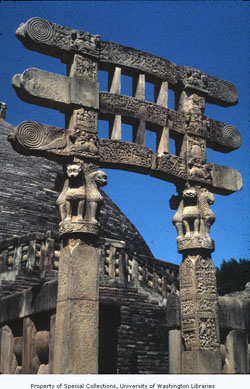 Explore art and architecture from 1960s India and beyond via the library's online Gairola Collection of Indian Art and Architecture. Twenty-five hundred images from the vast collection have been digitized for online viewing.
The photographs were taken between 1950-2000, but most were shot between the mid-1960s and the mid-1970s. The collection is a unique set of images that includes a significant representation of Indian art and architecture from the dynastic periods through the early 1960s. It is organized online by dynasty, location, and by century.
C.K. Gairola taught at the University of Washington in 1970. He was also a cultural attaché, journalist, art history professor, Smithsonian Institution fellow, and avid traveler who led excursions to key historical and archeological sites on the Indian subcontinent.
Gairola, his wife Indira, and their son immigrated to the U.S in 1967. Professor Gairola passed away in July 2003, but his slide collection shows the extent of his research and travels.
The collection was gifted to University Libraries by Indira, a senior chemist at the Environmental Protection Agency, to meaningfully expand art history and archaeology scholarship for students and faculty at the University of Washington.
The selection of 2,500 digitized slides was completed by Deepa Banerjee, South Asian Studies Librarian.
Photo: South Torana of the Great Stupa, Sanchi, Madhya Pradesh, India, ca. 2nd-1st century B.C. (Photo by C.K. Gairola)
October 2012 | Return to issue home