Take Me Out to the Ballgame ... for a Good Cause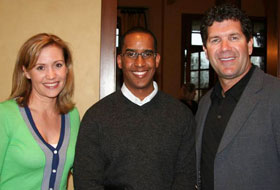 Holli Martinez, Wade Graves and Edgar Martinez
On June 6, enjoy some Major League Baseball action while supporting a great cause! You can catch the Mariners at a discounted price, exclusive to you through this online offer.
A portion of the proceeds from tickets purchased through this special offer will benefit The Martinez Foundation, founded by Edgar and Holli Martinez to provide underserved populations with educational opportunities. The Martinez Foundation has already contributed 15 scholarships to the UW College of Education. Ten full scholarships for master in teaching candidates and five scholarships for undergraduate students who wish to become teachers.
DEADLINE TO PURCHASE: Thursday, June 4 at 5 p.m.
Game date: Saturday, June 6 vs. Minnesota Twins at 1:10 pm
Pricing: $15 View Reserved (normally $20), $32 Field Level Seating (normally $40); $7 from each ticket sold benefits The Martinez Foundation for student scholarships!
Learn more about the discounted Mariners tickets.

Read more about the Martinez Foundation.