Knocking It Out of the Park: Edgar and Holli Martinez Foundation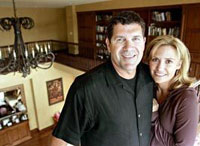 Former Major League All-Star Edgar Martinez and Holli Martinez
Former Major League All-Star Edgar Martinez and his wife, Holli Martinez, recently launched The Martinez Foundation to encourage diversity in teaching. Striving to address the growing need for higher educational opportunities for students of color and to encourage diversity in teaching, the foundation's mission is to strengthen communities by providing underserved populations with educational opportunities.
"Holli and I are deeply committed to providing higher educational opportunities for students of color in Washington," said Edgar Martinez. "After retiring from baseball, both Holli and I wanted to make sure our children were exposed to the other important areas of our lives, and though baseball remains an important chapter of our lives we firmly believe education is the key to unlocking the doors to better opportunities."
The Martinez Foundation will grant scholarships and support teaching programs for graduate students of color pursuing a masters in teaching degree from the University of Washington or equivalent from Washington State University. In addition, the foundation will provide 10 undergraduate scholarships annually worth $20,000 each for Latino students to attend any public university in Washington state.
Edgar and Holli both recognize the importance of education: following his retirement from baseball they both returned to the University of Washington to complete their education. Holli recently graduated magna cum laude with a bachelor's degree in social science. She is currently taking graduate courses in the school of education and plans to obtain a graduate degree.
"Edgar and I realize that we are very fortunate to have the option to continue our education, but not everyone has that choice," said Holli. "Poverty is the single most powerful risk factor for lack of academic achievement among children and people of color, particularly among Latinos, Native Americans and African Americans. That is why we started The Martinez Foundation—to help make a positive impact on the lives we'll be able to touch through the foundation."
The Martinez Foundation's Masters in Teaching scholarship encourages students of color to pursue a teaching profession. As part of the qualification for the grant, recipients will be required to commit to teaching in school districts in underserved communities. In addition to the scholarships, the foundation will also provide educational grants for scholarship recipients after they begin teaching to ensure their long-term success. The grants will help fund board certification, English Language Learners (ELL) certification as well as classroom materials.
Studies show that Washington state's classrooms lack teachers of color who reflect the diverse backgrounds of the students. While 50 percent of Seattle students are of color, only 10 percent of the teachers in Seattle are racial minorities. The foundation believes that teachers are the heart of a society and play a critical role in addressing the widening "achievement gap" in Washington and across the nation.
"We are thrilled to work with the Martinez Foundation to encourage greater diversity in teaching. The foundation's mission to support students of color will plant the seeds of hope that will eventually help grow the success rate of students in the underserved areas of our community," said Pat Walsey, Dean of the School of Education, University of Washington
"The Martinez Foundation's focus in providing higher education opportunities to students of color will help ensure that the diversity in our communities is also reflected in the faculty of our public schools," said Judy Mitchell, Dean of the School of Education, Washington State University. "We are pleased to partner with Edgar and Holli on this endeavor to have a positive impact in our communities."
In addition to the Masters in Teaching program, the foundation is also providing undergraduate scholarships for low-income Latino students with a GPA of 2.7 or above. Statistics show that Latinos have the highest high school dropout rate in Washington, and through this scholarship program The Martinez Foundation hopes to provide an incentive for at least10 Washington Latino students a year to continue their higher education.
Learn more: www.themartinezfoundation.org