The Future Belongs to the Fearless: Student Journalists Report on the 2008 Presidential Campaign
by Professor David Domke
In the first week of January 2008, 16 University of Washington journalism students and I set out to cover this year's presidential campaign. We decided to go new media, adopting a mode of journalism that mixed traditional reporting practices of verified facts and vetted sources with the kind of first-person commentary that is common among Internet blogging. We thought it would be a grand learning experience, perhaps even a historic one.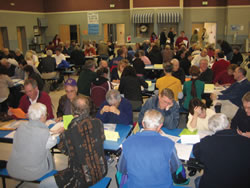 Mercer Island caucus
It was that and more: we saw the future of political journalism in America.
We called ourselves SeattlePoliticore, and our forum was www.seattlepoliticore.org. Students wondered if anyone would read our work, but in just a few months they posted hundreds of stories, photos and videos and drew tens of thousands of readers to the site. Students also were invited to provide material to the Seattle Times, the Idaho Statesman, Internet newspaper huffingtonpost.com, northwest regional news outlet crosscut.com, the popular "Texas on the Potomac" political blog of Texas' largest newspaper the Houston Chronicle, KIRO Radio in Seattle, and a number of online sites of varying persuasions.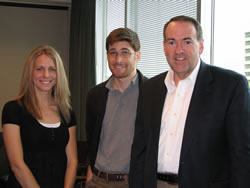 UW journalism students Laura Mansfield and Will Mari landed an exclusive interview with Republican presidential candidate Mike Huckabee.
Along the way we covered Democratic Party caucuses in Idaho (the state's Republicans don't use this method to select delegates), the caucuses and primaries of both parties in King County, the primary in Ohio, and I spent almost a week in Texas with the students covering the state's March 4 "primacaucus"—a complicated combination of primary voting and caucusing that ended the Republican presidential contest and gave new life to the Democratic one. In April and May students traveled on their own to Pennsylvania and Indiana to cover those primaries. When we were done, we met with the Board of Advisors for the College of Arts and Sciences, and students shared their stories and what they had learned.
It was a powerful experience for all of us, both as students and citizens.
Here are some of the highlights:
We spent two hours stuck in bad weather at Snoqualmie Pass working via cell phones and wireless network cards, and then sped to Coeur d'Alene, Idaho, to see Idaho Democrats brave ice and freezing weather to give Barack Obama 80 percent of their caucus votes—his highest margin of victory in the Democratic campaign.
We were barred from entering the Republican Party caucus in Washington state's 37th Legislative District in Rainier Beach—until the Seattle City Library and a sheriff's deputy intervened. This captured the attention of the Seattle Times and KIRO radio.
We scored an on-camera interview with Gov. Chris Gregoire at a Democratic caucus in Seattle's Magnolia neighborhood, and we saw Mercer Island and Sammamish Dems and Repubs conduct themselves with calm and citizen pride.
We broke news stories in the Houston gay and lesbian community, including the news of a Republican Log Cabin leader switching to the Democratic Party and a male-turned-female, former Montana legislator opponent of gay rights who had become a leading GLBT activist.
We went to church several times in Texas, covering the candidates and the on-the-ground ways in which faith centers become political.
We were just about the only journalists present when feminist icon Gloria Steinem spoke on behalf of Hillary Clinton in a small club in Austin, Texas, and ultimately had her words twisted—a matter that we addressed by posting the sole video clip of her talk.
We worked long and hard to get a one-on-one interview with Republican nominee Mike Huckabee; we got it and it captured national interest.
In the end, our take-home point was a simple, yet profound one: In today's politics and media environment, one can be part of the conversation within minutes and on a shoestring budget. We're proof of that.
For example, when we stepped off the plane in Texas we were equipped with a web of contacts—aided by campaign staffers' always-on availability via cell phones and Blackberries, social networking sites such as Facebook, numerous blogs and the online presence of news organizations. We split into teams and spent days traveling between Austin, San Antonio, Houston, Waco, and other points. The students took with them cell phones, laptops, pocket-size digital cameras and wireless network cards (the latter were the envy of several traditional reporters), which allowed me to talk with them roughly every few minutes. I may not have been standing next to the students, but I was with them every step.
Everyone who walks through the door today is a journalist. She or he might not be driving a news van or carrying a shoulder camera and, indeed, is far more likely to carry a Mac Notebook than a reporter's notebook. It is unlikely to be someone who is 60, white and male; instead we will see a rainbow of ethnic, gender, age and sexual diversity. Video storytelling will be as important—perhaps more—as written words. Digital media are the new printing presses. They allow people to tell stories 24/7/365.
Indeed, that's exactly what I did from a hospital room on our final day in Texas, after a bacterial infection waylaid me. From my hospital bed, with my cell phone and laptop (the hospital had wireless access), I went to work with my students covering the day's primacaucus. They were out talking to people and I was with them every step of the way. Indeed, I even wrote about our experiences, from my hospital room, for online outlets.
The Department and I are indebted to these students: they boldly brought us—with unabashed enthusiasm and creativity—into the 21st century of political journalism. The future belongs to the fearless.