Welcome from the Interim Director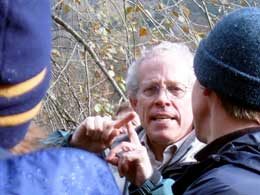 Tom Hinckley and students
Welcome to spring! SFR's classes are in full swing, with many planned field trips that enable our students to fully experience the fantastic outdoor laboratory we enjoy here in the Pacific Northwest. The season of spring celebrates new growth and change, and the year 2011 also promises to be a year of growth, change and celebration.
I'm pleased to report that our enrollment figures continue an upward trend: in autumn 2010, undergraduate enrollment at 273 was up 2.6% from 2009, reaching the highest level since 1999; and graduate enrollment at 186 was up 3.3% from 2009, reaching the highest level since 2003. We have an excellent chance of reaching our planning benchmark of 300 undergraduates and 200 graduate students by autumn 2011!
The School continues its strategic faculty hiring, and a search for a new bioresource science and engineering faculty member is currently under way. This position will strengthen teaching and research in our bioresource science and engineering focus. This focus and its associated graduate and undergraduate programs were recently developed by our faculty to transform our former paper science and engineering curriculum into a broader program that includes the conversion of biomass to fiber, fuels and chemicals.
This year we celebrate the United Nations-declared "International Year of Forests"; through events and programs throughout 2011, the United Nations and its partners around the world hope to raise awareness of the important challenges to sustainable management, development and conservation of all types of forests. SFR has planned a series of events celebrating the International Year of Forests, beginning with the winter Sustaining our Northwest World lecture by SFR alumna Nalini Nadkarni, '83, followed in spring quarter by a student senior project, a distinguished alumni seminar panel and a Denman Forestry Issues program on global forestry. You can read about these projects and find links to web pages in an article in this newsletter.
2011 will see a change in leadership for the School of Forest Resources; a search committee charged with recommending candidates for this position is now seeking nominations and reviewing applications. I encourage all of you to communicate your insights and concerns and to send nominations to any member of the committee. You can find information about the search on our website.
Changes in 2011 will also include difficult, but hopefully creative, budget decisions as the UW faces greatly diminished state support. We must also be prepared for potentially reduced sponsored research funding from federal and state agencies and private grantors. We are working to ensure that our mission and core values are preserved; flexibility and creative thinking will be critical, as we face the probability of major adjustments that will change dramatically the way in which SFR carries out its mission and charts a vision for the future.
As always, the generous support of our alumni and friends continues to provide much appreciated funding for our students, faculty and programs. Our extraordinary students, with your help, will open pathways to scientific discoveries and will provide natural resource management expertise benefiting our state, our nation and our world. They are incredibly thankful for your support and the possibilities and rewarding experiences they have enjoyed with your help.
Recently, soil science student, Grace King, who will graduate with a master's degree this spring, expressed it this way: "I enrolled in the ESRM program in 2006 because I was looking for an interdisciplinary, science-based program that complemented my interest in chemistry. As a master's degree student in soil science, I am fortunate to have an exceptional support system that includes the mentorship of my major professor, Darlene Zabowski, '81, '83, '88, and funding from the Gessel, Knoblauch and School of Forest Resources Alumni scholarships." In recognition of the help received from generous donors, Grace has made it a practice to "give back" during her student career. Last month she volunteered as a mentor for Seattle's Bryant Elementary School science fair, along with other SFR students. The organizers of the event praised "the excellent leadership, enthusiasm and expertise that contributed greatly to a positive experience for our students." Grace also serves as a board member of the Forest Resources Alumni Association and is a lifetime member of the UW Alumni Association. She says, "I look forward to one day contributing to a scholarship for a future SFR soil science student."
Student experiences like these would not be possible without you. As you read the articles in this newsletter, you can share our concerns as well as our accomplishments. Your support and engagement enable SFR to continue to make student and faculty awards that make a difference in our communities and help sustain natural resources and the environment for future generations.
Best,
Tom Hinckley