Did You Know…?
SFR Is Celebrating the United Nations 'International Year of Forests'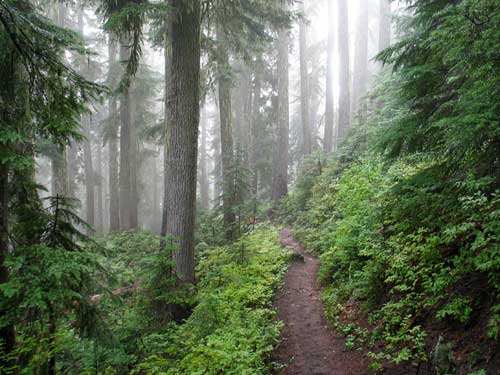 Yellow Aster Butte Trail, Mt. Baker-Snoqualmie National Forest*
The United Nations (UN) General Assembly has declared 2011 "The International Year of Forests." This declaration recognizes that "forests represent many things to many people including spiritual, aesthetic and cultural dimensions … [and] they are also cornerstones of the world's economies, whose real value has all too often been invisible in national accounts of profit and loss." Information about global forests available from the International Union for Conservation of Nature (IUCN) includes the following:
Forests cover 31% of the earth's total land area.
Over 40% of the world's oxygen is produced by rainforests.
Forests are home to 80% of the world's terrestrial biodiversity.
More than 300 million people live in forests.
The livelihoods of 1.6 billion people depend on forests.
More than a quarter of modern medicines, worth an estimated US$ 108 billion a year, originate from tropical forest plants.
The carbon in forests exceeds the amount of carbon currently in the atmosphere.
By absorbing water and holding soil in place, forests reduce the risk of floods and mudslides that result from natural disasters such as earthquakes and hurricanes.
Forests protect watersheds which supply fresh water to rivers—critical sources of drinking water.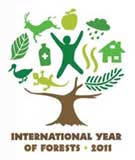 The UN's Food and Agriculture Organization (FAO) has recently reported that "Globally, around 13 million hectares of forests were converted to other uses (including agriculture) or were lost through natural causes each year between 2000 and 2010." Through the International Year of Forests, the UN hopes to raise awareness of the important challenges of sustainably managing, developing and conserving all types of forest. Recognizing that forests play an important role in the livelihoods and welfare of a vast number of people in both developed and developing countries, it is also a celebration of how people's actions around the world can play a vital role in meeting these challenges.
A series of programs and events at SFR celebrates the International Year of Forests. The "Sustaining our Northwest World" lecture on Feb. 24 by SFR alumna Nalini Nadkarni, '83, shared her vision of how fostering human relationships with trees and forests will help ensure that forests, which sustain human, animal and plant communities worldwide, thrive and nourish both the livelihoods and spirits of future generations. Watch the video.
Upcoming events include a spring quarter 2011 student capstone course culminating in the submission of a position paper to the United Nations Forum on Forests, a Distinguished Alumni Seminar panel presentation and a Denman Forestry Issues program on global forestry challenges.
The SFR Distinguished Alumni Seminar Series on Friday, May 6, 2011 will feature presentations by three alumni holding leadership positions in global forestry, followed by a Q&A session. The program is facilitated by alumnus and SFR Affiliate Professor Mack Hogans, '76. Participants include:
Kamoji Wachiira, '69, independent forestry consultant, held faculty positions at University of Nairobi, Kenya; led international projects for the Canadian International Development Agency in South America and Southeast Asia and served as advisor to Nobel Laureate Wangari Maathai.
Jeannette Gurung, '85, founder and Director of Women Organizing for Change in Agriculture and Natural Resource Management (WOCAN), is active in international work with the United Nations Forum on Forests and other United Nations committees and programs on food security, gender issues and sustainable development.
Mark Wishnie, '98, managing director for Equator Environmental, an international environmental markets company, previously served as program director of the Yale Tropical Resources Institute and the Smithsonian Tropical Research Institute's Native Species Reforestation Project.
On Tuesday, May 10, 2011, the Denman Forestry Issues Series will present "Celebrating The International Year of Forests 2011," with SFR faculty, staff and student speakers. Topics will range widely on conservation and forest ecology in a global context in sessions covering international interdisciplinary education and research, sustainable forest management and forestry and urban ecology management, including carbon cycling and wildlife. The program will be filmed by UWTV.
* Photo by Dave Hogan