Nalini Nadkarni: Reaching the Canopy, Engaging the Public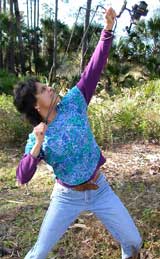 Nalini Nadkarni shoots a line into a tall tree with the "Master-Caster," an invention of hers that enables the first step of her ascent into the canopy.
Nalini Nadkarni, '83, has spent nearly three decades climbing the trees of Costa Rica, Papua New Guinea, the Amazon and the Pacific Northwest, exploring the world of animals and plants that live in the canopy, and how this part of the forest interacts with the world on the ground. Nadkarni is a member of the faculty at The Evergreen State College and holds an affiliate associate professor appointment at SFR.
Nadkarni gave the UW's Winter 2011 Sustaining our Northwest World lecture, Sustaining Forests and Sustaining Ourselves: Trees as Providers and Inspiration for Our Lives. Sponsored by the SFR and the College of the Environment, the lecture addressed one of the greatest challenges of our new century—how to ensure that forests, which sustain human, animal and plant communities worldwide, thrive and nourish both the livelihoods and spirits of future generations. Nadkarni shared her vision of how fostering deeper human relationships with trees and forests will help us meet this challenge. The lecture was the first in a series of SFR programs and events celebrating 2011 as the United Nations-declared "International Year of Forests."
Nadkarni's Ph.D. dissertation from the UW was one of the first scientific studies of the forest canopy, "the last biotic frontier." She documented the effects of epiphytes on ecosystem-level nutrient cycles within temperate and tropical rainforest tree canopies in the Pacific Northwest and Costa Rica. Her studies revealed that epiphytes, branch-dwelling plants such as orchids and ferns that intercept nutrients from rainfall and mist, function to enhance the nutrient cycles of the rainforest. They create arboreal mats of nutrient-rich organic material on branches and trunks. She discovered that some trees develop aerial roots that grow into the mats, providing nourishment not available from the soil, and creating a "short cut" in rainforest elemental cycles that had not been known.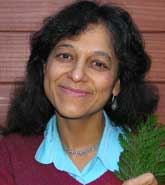 With continual support from the National Science Foundation and the National Geographic Society, Nadkarni has climbed trees on four continents using ropes and mountain-climbing techniques, construction cranes and hot air balloons. Her research on the ecology of tropical and temperate forest canopies has focused on the resources that canopy-dwelling plants provide for birds, mammals and insects in primary forests and human-affected landscapes such as pastures and plantations. In 1994, she co-founded the International Canopy Network to enhance communication among researchers, educators and conservationists concerned with the forest canopy; she serves as its president. Working with computer scientists, she built a database for canopy studies used by multiple scientific disciplines.
In her work outside the academy, Nadkarni uses non-traditional ways to teach the general public about trees and forest ecosystems. She collaborates with modern dancers, poets and hip hop singers to cross disciplines and overcome traditional boundaries in communicating about science. Her work engages people with limited access to science education, including people in assisted living centers, military bases, hospitals and prisons. Her collaborative "Sustainable Prisons Project" with the WA Department of Corrections has inmates directly participating in conservation projects, including cultivation of threatened mosses and captive rearing of the endangered Oregon Spotted Frog. In 2002, she received a Guggenheim Fellowship to better extend her work to the public, and in 2010, she was awarded the prestigious National Science Board Public Service Award. A 2010 grant from the National Science Foundations' Ecosystems Program funds her "Research Ambassador Program" to recruit and train other academic scientists to carry out non-traditional science outreach.
Books authored or co-authored by Nadkarni include Rainforests, with J. Johnson; Monteverde:
The Ecology and Conservation of a Tropical Cloud Forest, with N.T. Wheelwright; Forest Canopies, with M.L. Lowman and Between Earth and Sky: Our Intimate Connections to Trees.
Says Nadkarni, "The most critical problems facing society today are the widening gaps between humans and nature, and between science and society. Scientific researchers, because of their passion and their scientific knowledge, can—and should—play a role in communicating science
far beyond academia."