College News
Faculty Vote to Join UW's College of the Environment
College of Forest Resources faculty recently voted to participate in the UW's newly formed College of the Environment as a core unit. The College of the Environment, along with a new interdisciplinary institute, will "leverage the unique capabilities of a great research university to address the immense challenges that we face in understanding our environment, developing solutions, and applying those solutions to sustain, steward and improve the environment," according to a report on the structure for the new college. Development of the new college will be ongoing during the current academic year as discussions continue about participation by other UW units and the new college's vision and governance.
College Mourns Passing of Mort Lauridsen, George Corkery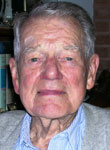 Mort Lauridsen Jr.
The college sadly noted the passing in summer 2008 of two stalwart alumni and friends, Morten Lauridsen, Jr., '39, and George Corkery, '41.
Mort Lauridsen, alumnus, friend and UW laureate, had a long and distinguished relationship with the college and the UW, beginning in the late 1920s when he entered the college's freshman class. After graduation he worked for the USDA Forest Service and then built a career as a timber assessor for the IRS. He remained close to CFR and the field of forestry throughout his life; over the years he contributed to several endowed scholarships and made a capstone gift to help establish the David R. M. Scott Professorship in Forest Resources. Thanks to his foresight and generosity he also established planned gifts providing endowed funds for students and programs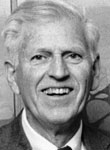 George Corkery
During the Great Depression George Corkery and his brother Jack came to the UW for degrees in forestry. After serving in World War II, he and his brother started Corkery Brothers Painting Company in Seattle. He maintained his contact with the UW and the CFR throughout the many years that followed, and in a tremendous act of loyalty and generosity left a $1 million bequest to enhance the Corkery Family Endowed Chair in Forest Resources. The Chair was established in 1991 by the Corkery brothers, their late sister Alberta, and Jack Corkery's wife, Vada May, as the College's first endowed chair.
Tom Hanson is New CFRAA President

Tom Hanson
CFRAA Board of Trustees officers were installed for the coming year at the association's Oct. 11 annual meeting and banquet. Tom Hanson, '71, is the association's new president and he extends a welcome to all college alumni on behalf of the CFRAA. Other new board appointments include Ara Erickson, '04, and Alan Randall, '57. Annual awards presented at the banquet included:
Distinguished Teaching Award:
Bob Edmonds, professor and associate dean, College of Forest Resources
Distinguished Achievement Award:
Nalini Nadkarni, '83, faculty, The Evergreen State College
Honored Alumnus:
Bob Dick, '74, American Forest Resource Council, past alumni president

Honorary Alumnus:
Mark Doumit, Washington Forest Protection Association
Honorary Alumnus: Tom Mentele, development and alumni relations director, College of Forest Resources

UWTV Airs Denman Forestry Series Video on Ecosystem Restoration

Jon Bakker

UWTV has completed the production of video programs from the most recent Denman Forestry Issues Series program, Ecosystem Restoration. The program features the latest research and application of restoration ecology by UW scientists and community and public agency practitioners. Watch the videos on the UWTV Web site, which also features the research of Assistant Professor Jon Bakker, one of the Denman series speakers, as he explains the delicate and necessary balance of the role of trees in ecosystem restoration.

(The Denman Forestry Issues Series is funded with support from Mary Ellen and the late W. Richard Denman.)