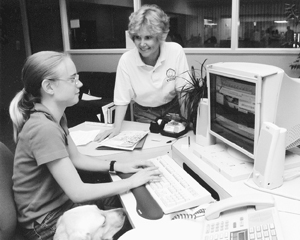 This book and the complementary video series, Taking Charge: Stories of Success and Self-Determination, explore positive internal characteristics and external factors that contribute to success—personally, socially, spiritually, academically, and professionally. These factors can be used to provoke thought and promote interaction between teens and caring adults.
The book also tells how you can set up a mentoring community on the Internet where young people and their mentors share ideas that contribute to a successful transition to adult life. A complementary video for this book, Opening Doors: Mentoring on the Internet, shares reports from teens and mentors who have participated in a successful e-mentoring community sponsored by DO-IT (Disabilities, Opportunities, Internetworking and Technology). Another video, How DO-IT Does It, shares details about the DO-IT Scholars program, within which this mentoring community is one strategy to help teens with disabilities achieve success in postsecondary education and careers.
Another complementary video, DO-IT Pals: An Internet Community, tells teens how to gain maximum benefit from and have fun in an electronic mentoring community. It also invites teens with disabilities to join the DO-IT Pals online community.
If you wish to set up your own electronic mentoring community, follow the instructions provided in Part I of this book and then choose online activities from Part II that are most appropriate for your participants. The discussion exercises described are targeted to college-bound teens with disabilities—high school students for whom a technical college, community college, or four-year institution is part of their future plans. However, activities can be easily modified for teens without disabilities, individuals at other age levels, and young people with different goals. For students whose reading level is low, speech output software can be used to read the messages aloud, or the student can work with an assistant side by side. The content of this book can also be used to stimulate in-person conversations and activities within your home, community group, summer camp, or classroom.
In this book you will not find the stories of movie stars, international leaders, or other celebrities. Although the content is based on personal experiences of successful people with disabilities, all of the people represented here would not be considered superachievers in all areas of their lives. You'll hear the stories of everyday people striving for the best life has to offer. This book highlights advice from people who confront barriers as challenges rather than deterrents, who find insight and humor during trying times. It shares some of the attitudes, skills, and strategies that have contributed to the success of people with a wide range of disabilities, abilities, experiences, and personalities. The experts who provide the major content for this book share their dreams, goals, challenges, successes, and frustrations. They tell about their experiences and give advice about how to successfully transition from high school to college, careers, and independent living. Perhaps their stories will provide inspiration as you help those around you define and achieve success for themselves.
In short, this publication is:
a how-to book for setting up an electronic mentoring community
an invitation to recruit teens with disabilities to the DO-IT Pals online program
a collection of activities to help teens with disabilities develop self-determination skills and transition to college, careers, and independent living
a place where you will gain insights from successful individuals who have met and continue to meet life's challenges, including those imposed by disabilities
The following video presentations complement the content of this book:
These presentations can be freely viewed online on the DO-IT Video page or purchased from DO-IT in DVD format.