Pipeline Alumna Shakes Up Earthquake Awareness in Tajikistan
By Crystal Chiechi (senior, UAA intern)
"Some students join the Alternative Spring Break program because they want to make a positive contribution to the rural communities of Washington, or simply because it looks good on a resume," says Solmaz Mohadjer, a 2004 University of Washington graduate in earth and space sciences. "Participating in outreach work gave me a sense of being a member of a family or a community."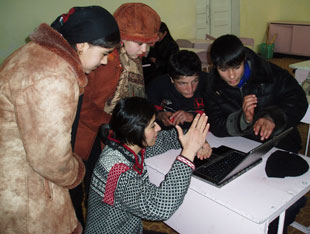 Solmaz Mohadjer, center, teaches Tajik elementary school students about earthquakes.
Mohadjer spent her undergraduate spring breaks volunteering in rural Washington schools, helping elementary school children become better readers and writers. Undergraduates in the Pipeline Project's Alternative Spring Break help K-12 students in rural Washington schools create their own book.
While a Pipeline volunteer, Mohadjer experienced first-hand the impact language has in building relationships and breaking down barriers. "Jennifer was a shy second grader from a Hispanic background," she remembers. "We immediately clicked when I told her she didn't have to write her story in English." Mohadjer is bilingual (she also speaks Tajik) and recognizes the power of language to express culture and individuality.
As a University of Montana graduate student, Mohadjer connected with children again while installing GPS stations in Tajikistan. She described two boys from the local village peppering her with questions about earthquakes. "I knew I had to return soon to talk to these kids about earthquakes and how they can prepare for them."
She discovered that the public was unaware of seismic hazards in the area, despite the amount of scientific research conducted there. "This is very unfortunate because it is these people who live or die by the knowledge of what to do before, during and after an earthquake," Mohadjer says. She recognized the need for more information and, with three years as a Pipeline volunteer guiding her, organized workshops at two middle schools in Dushanbe, Tajikistan.
Mohadjer explained the motion of tectonic plates with clay and used toy models to show safety hazards in building construction. Wanting the students to demonstrate what they learned, she drew on her Alternative Spring Break experience and had them make books. "Most students found the bookmaking activity to be the best part since they got to make something they could keep and be proud of," she recalls.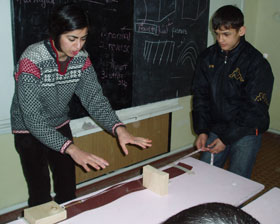 Mohadjer works hands-on with her students.
Feeling empowered, some children began conversations about earthquake preparedness on their own. "During lesson implementations, many of them approached their school principal and demanded answers about school safety," Mohadjer says. She still combines her experience in education and geology and is working with Teachers Across Borders, facilitating emergency education programs in the earthquake affected regions in Sichuan Province, China.
This spring break, 55 UW students hopped in Enterprise-Rent-a-Car supported vans and fanned out to 10 Alternative Spring Break sites across Washington. To them, she shared this advice: "Don't do it to feel good about yourself and your life, or because it looks great on your resume. Do it because you are a compassionate human being."
As Mohadjer can attest, the experience could have global implications.