Bert Pound: Giving the Gift of Endowment to HMB Drumline
It can probably be said with a great degree of certainty that if you have worn a Husky Band uniform or played in the Alumni Band over the last 50 years, you have probably met Bert Pound, or at the very least have seen him performing vigorously (or videotaping) at any number of Alumni Band performances throughout the year.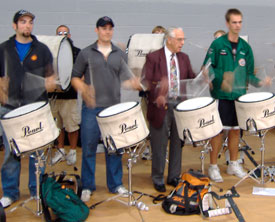 Bert Pound rocks out with HMB Drumline members.
Bert's love and renown enthusiasm for the Husky Band have led to his recent announcement that he plans to establish an operational endowment to fund future instrument purchases and operational expenses for the Husky Band Drumline.
Besides being one of the most active members of the Alumni Band the past several decades, Bert's biggest claim to fame is that he was a member of the 1936 Band which marched in the 1937 Rose Bowl under the direction of the Husky Marching Band's first full-time director, Walter Welke. To this day Bert says his Rose Bowl experience has provided him with some of his fondest memories of the Husky Band. However, it is interesting to note that Bert's initial reason for joining the Husky Band was because of the quality of the Concert Band and the originality of formations in the Marching Band under Welke (at the time Band members played in both). Bert recalls, "although I was in the Queen Anne High School Band, I never had formal lessons. I was concerned about being accepted by the University of Washington Band. I did some extra practicing and was very excited to learn that Welke had accepted me. Of course it also helped to learn that those accepted in Band were excused from R.O.T.C.!"
Bert has also distinguished his membership in many ways. He has served on the Husky Marching Band Alumni Association board and was co-editor in chief in 2004 with Brad McDavid on the Band's 75th Anniversary History Book. During the last several years, Bert has also been instrumental in providing many of the items that the Alumni Band sells at tailgate parties prior to home games to collect funds for the Varsity Band as well as the jackets worn by the Alumni Band during its performances.
Says Husky Band Director Brad McDavid, "I am deeply touched by Bert's gift to the Band. Through his incredible generosity, we will always be able to provide the members of our drumline with outstanding instruments. More importantly, Bert's gift will have an enormous impact on the quality of the experience we're able to provide for our percussionists for decades to come. We'll never be able to thank him enough!"
On behalf of all Husky Band members, past, present and future, our sincere thanks Bert!