Research: Kids with Supportive Parents More Likely to Succeed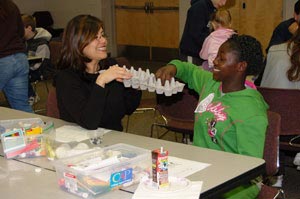 College Access Project team member at Family Science Saturday 2007 event.

Across the nation, it's becoming clear that low-income and first-generation college-bound students have the most difficulty accessing a college education. They need information on how to prepare for college, they need advocates to help them plan their academic future, and, perhaps most important, they need support from parents and mentors.

Research demonstrates that students are 81% more likely to graduate from high school if their parents express high hopes for their future and solid expectations for their performance in school. While many students can tap into "college access" programs in high school, by that point it may be too late. Thus, the College Access Project offers education, outreach, and community building for students in elementary school.

The College Access Project, an intensive program for fourth, fifth and sixth graders, aims to provide students and their parents with the information to support a college career trajectory beginning in elementary school.

When Maribel Sanchez, a fifth grader, realized how much it cost to go to college, she decided to deliver newspapers as a way to raise money to afford college. Maribel, a student in the College Access Project, is different from many of her peers—she believes that hard work will help her achieve her educational goals.

As UW College of Education faculty member Tom Halverson, states, "Fourth, fifth, and sixth graders in at-risk families are often struggling to build a foundation toward higher education. If they have a parent who will partner with them, encourage them in the pursuit of academic success, they are much more likely to be ready for college, both academically and financially, and to understand how college can help them attain their personal goals."

Halverson, a Senior Researcher with the Center for the Study of Teaching and Policy, co-founded the College Access Project with Nicole Ainslie Galipeau, a Developmental Education Division faculty member at Edmonds Community College, who brings years of experience working with at-risk, low income, and homeless youth to the project.

Together they created a program where the relationship between the parent and the student could be strengthened by learning together. The program is based upon the belief that if a parent can identify and articulate how a child's future might include college in elementary school, this can be a critical step towards enjoyment of the educational process, understanding of what it takes to be "college ready," and partnering so that the entire family works toward the goal of a college graduation.

Students and parents in the College Access Project become a team, working together to develop expectations, build potential, and create a plan for the child's future that includes college. "We aim to give parents the resources to be their child's advocate, to be a partner with their student," declares Galipeau.

Both Halverson and Galipeau attest that many parents could be their students' strongest support systems but falter due to a lack of success in their own education. Anecdotal evidence and research document a disconnect around middle school between students and parents.

For example, if a parent didn't have a positive school experience, they may be increasingly unable or uncomfortable with providing support for their child, such as checking homework or asking about school lessons. As a result, the student may fall off the academic track and this behavior may limit the students' view of self-potential.

The program has grown since it began in 2003, as a pilot project in the Seattle and Everett School Districts. Not only has it expanded in size, but the scope of children will be wider in the future, including 4th, 5th, 6th, 7th, and 8th grade students.

And it takes a community to build up support and enrollment for this program. One important champion is Sue Venable, the Assistant Superintendent of Edmonds School District, who encouraged school principals to spread the word to teachers and school counselors, thereby increasing enrollment and fostering community awareness.

Program staff point out that "college readiness" means understanding the difference between high school graduation requirements and college admission requirements. In order to be ready for college when they graduate from high school, students should begin researching requirements in 8th, 9th, and 10th grade. Ultimately, this pays off big – through educational success, confidence, and a stronger understanding of the cultural and economic structures of this society.

Getting good grades and studying hard does not mean that a student can simply gain admittance to college. This complicates the issue of college acceptance, an issue that deprives many graduates of the chance to pursue a college education.

Says Halverson, "We provide opportunities for parents to learn the basic vocabulary, to talk about what preparing for college entails and means. What is an undergraduate degree? What is the difference between a community college and a university?"

Ultimately, the College Access Project is about kids and parents learning together, preparing for the future in a fun environment. "Kids can get sucked into the notion that college is the end," asserts Halverson. "We want them to look past acceptance and consider what education and college graduation can mean for that student, for their families. Ultimately, we want the students to get passionate about learning so they can learn more. And we want the parents to understand this passion, to encourage it."

As Maribel's mother, Cruz Ortega, states, "There are lots of opportunities to get education but you have to be open, you have to want to be somebody. The College Access Project changed my vision and how I presented that vision to my children. It doesn't have to be about the money, it has to be that you want to be somebody."

Learn more about the College Access Project.