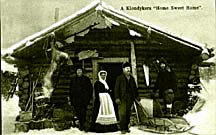 VII. Bibliography: General Sources on Seattle and the Klondike
Adney, Tappan, The Klondike Stampede (1900; repr. Vancouver, B.C.,1994).
Bolotin, Norman, A Klondike Scrapbook: Ordinary People,Extraordinary Times (San Francisco, 1987).
Berner, Richard C., Seattle 1900-1920: From Boomtown, UrbanTurbulence, to Restoration (Seattle, 1991).
Berton, Pierre, Klondike: The Last Great Gold Rush, 1896-1899 (1958, repr. Toronto, 1993).
Holeski, Carolyn, and Marlene Conger, In Search of Gold: TheAlaska Journals of Horace S. Conger, 1898-1899 (Anchorage, 1983).
LaRoche, Frank, Photographic Views En Route to the Klondike (Chicago, 1898).
Martinsen, Ella Lung, Black Sand and Gold: A True Story of theAlaska-Klondike Gold Rush (Portland, 1956).
Marks, Paula Mitchell, Precious Dust: The American Gold Rush Era,1848-1900 (New York, 1994).
Mayer, Melanie, Klondike Women: True Tales of the 1897-98 GoldRush (Athens, Ohio, 1989).
Morgan, Murray, One Man's Gold Rush: A Klondike Album. Photographsby E. A. Hegg (Seattle, 1967).
Pomeroy, Earl, The Pacific Slope: A History of California, Oregon,Washington, Idaho, Utah, and Nevada (New York, 1965).
Sale, Roger, Seattle: Past and Present (Seattle, 1976).
Schwantes, Carlos, The Pacific Northwest: An Interpretive History, revised ed. (Lincoln, 2000).
Stone, Thomas, Miners' Justice: Migration, Law, and Order on theAlaska-Yukon Frontier, 1873-1902 (New York, 1988).