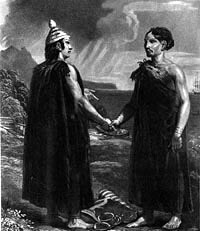 Indians and Europeans on the Northwest Coast, 1774–1812

A Curriculum Project for Washington Schools
Developed by
Holly Miller & Michael Reese
Center for the Study of the Pacific Northwest
University of Washington Department of History
---
Table of Contents
---
I. Introduction: How to Use this Curriculum Packet
The materials in this packet allow teachers and students to explore the earliest recorded history of the Pacific Northwest. The packet consists of roughly 30 primary documents, along with supplemental materials to help place the primary sources in historical context. These materials document the range of interactions and relationships between Native and Non-Native peoples along the Northwest Coast in the late 18th and early 19th centuries. They permit students to analyze the different cultures and worldviews of the Nuu-chah-nulth people living on Vancouver Island and the Salish peoples living along Puget Sound, as well as the Spanish, English, and Americans who visited their lands. The materials illustrate the various ways—often peaceful but occasionally violent—in which these peoples chose to deal with one another. They show how the fur trade brought Indian and European peoples together, despite their differing cultures and economies. They also illuminate how European mercantilism and imperialism worked in the Northwest, allowing students to investigate the dispute between the English and the Spanish known as the Nootka Controversy. Furthermore, the packet enables students to see how meeting, trading, and living together impacted Indian and European people in the Northwest. Contact was clearly a two-way process that affected the outlooks and economies of all parties involved.
Teachers can use this packet in a variety of ways. They could use a handful of documents to supplement existing readings and lesson plans. They could also use the materials to create a new teaching unit lasting anywhere from a few days to multiple weeks. However, teachers of 8th and 9th grade history courses should be aware that some of the longer primary documents in this packet—especially those which use obtuse 18th-century language—may be difficult for their students to understand. Nonetheless, middle-school teachers will find many documents that can work in their classrooms—such as the logs kept by John Boit, a 16-year old sailor from Boston (document 17 and document 18).
The most important elements of this packet are clearly the primary documents. These sources force students to go beyond hearing about contact, exploration, imperialism, and the fur trade from a textbook. Reading and analyzing what Europeans and Indians wrote and said about each other enables students to become investigators and explorers of history. The documents in this packet are drawn from a wide variety of sources—explorers' journals and memoirs, Native oral histories, drawings, maps, and even the diary of an American sailor who lived among the Nuu-chah-nulth for two years. Links to the primary documents may be found in the last section of the packet, section VI. This section is a sort of concordance and users' manual. It provides the source of each document, historical background about the documents, and a list of possible discussion questions to ask students when they talk about the materials in class.
The other sections of the packet are designed to help place the documents in historical context. Section II is an interpretative essay that offers a useful overview of the history of contact on the Northwest Coast. It analyzes how Europeans and Indians thought about each other and how they found ways to interact and live together. Teachers (and university-level students) may wish to read this overview essay before they launch into the documents. Section III is a timeline of events along the Northwest Coast. Teachers could pass out this timeline to help students keep track of events. A bibliography of useful secondary sources appears in Section IV. In addition, Section V contains suggestions about how teachers might use the documents in their courses. Some of these suggestions can be used to generate homework assignments, and others propose interesting classroom activities, role-plays, and discussions.