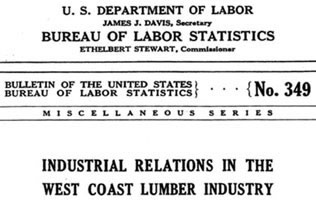 Section V. Outside the Classroom:
A Bibliography of Additional Resources


The materials in this packet can stand alone, but they can also be used fruitfully in conjunction with books, videos, websites, and field trips. Teachers can use the resources in this bibliography either to expand upon this packet or to study a particular topic in greater depth.
A. Books

High school students writing research papers could find these books to be useful, but the texts are probably too advanced for most middle school students. However, selected excerpts from Dietrich's, Morgan's, or Holbrook's books could be used in the middle school classroom.
Clark, Norman. Mill Town: A Social History of Everett, Washington, from Its Earliest Beginnings on the Shores of Puget Sound to the Tragic and Infamous Event Known as the Everett Massacre. Seattle: University of Washington Press, 1972.
A community study of Everett, Washington, focusing on the logging industry, the influence of railroad magnate James J. Hill, and the Everett Massacre of 1916.
Coman, Edwin and Helen Gibbs. Time, Tide, and Timber: A Century of Pope & Talbot. Stanford: Stanford University Press, 1949.
A very well-researched, though somewhat dated, history of the Pope & Talbot Lumber Company.
Cox, Thomas. Mills and Markets: A History of the Pacific Coast Lumber Industry to 1900. Seattle: University of Washington Press, 1974.
A business history of the coastal lumber industry extending from Humboldt Bay in northern California to Puget Sound. Cox focuses on the economic aspects of the lumber industry, exploring the influence of markets and management.
Dietrich, William. The Final Forest: The Battle for the Last Great Trees of the Pacific Northwest. New York: Penguin Books, 1992.
Written by a journalist who covered environmental issues for the Seattle Times, this is an excellent exploration of the controversy over the Olympic Peninsula's old-growth forests. Dietrich examines the battle from the perspectives of several individuals and groups—including loggers, scientists, and environmentalists—who have a vested interest in the future of the forests.
Ficken, Robert E. The Forested Land: A History of Lumbering in Western Washington. Seattle: University of Washington Press, 1987.
An informative history of the lumber industry in Western Washington prior to World War II. Ficken focuses primarily on the lumber companies and their executives.
Ficken, Robert E. "Washington's Forests." In Richard C. Davis, ed. Encyclopedia of American Forest and Conservation History. New York: Free Press, 1983.
This essay provides a concise summary of Washington's forests, detailing the tree species found in the state, offering a general overview of the lumber industry, and furnishing information about state and federal control of forest lands.
Hidy, Ralph, Frank Hill, and Allan Nevins. Timber and Men: The Weyerhaeuser Story. New York: Macmillan, 1963.
A general history of the Weyerhaeuser Lumber Company.
Hirt, Paul. A Conspiracy of Optimism: Management of the National Forests since World War II. Lincoln: University of Nebraska Press, 1994.
According to Hirt, the postwar period ushered in an era of Forest Service management that emphasized intensive logging. Hirt describes how the Forest Service's optimism about timber supplies and the ability of science and technology to increase harvests precipitated unsustainable logging practices.
Holbrook, Stewart. Green Commonwealth: A Narrative of the Past and a Look at the Future of One Forest Products Community. Seattle: Dogwood Press, 1945.
A history of the Simpson Timber Company and its impacts on the community of Shelton, Washington. The book is well written and quite accessible, but it unabashedly celebrates the company it studies.
Hyman, Harold. Soldiers and Spruce: Origins of the Loyal Legion of Loggers and Lumbermen. Los Angeles: Institute of Industrial Relations, University of California, 1963.
A study of the Loyal Legion of Loggers and Lumbermen and the Spruce Production Division during World War I.
Lien, Carsten. Olympic Battleground: The Power Politics of Timber Preservation. San Francisco: Sierra Club Books, 1991.
A politically charged study of Olympic National Forest and Olympic National Park. Lien, an ardent environmentalist, examines how the preservation of the Olympics has been threatened on various fronts.
McClelland, John M. Wobbly War: The Centralia Story. Tacoma: Washington State Historical Society, 1987.
McClelland describes the Centralia Massacre of 1919 and provides information about the lumber industry, working conditions, and labor organizing in the 1910s.
Morgan, Murray. The Mill on the Boot: The Story of the St. Paul & Tacoma Lumber Company. Seattle: University of Washington Press, 1982.
A well-written general history of the St. Paul & Tacoma Lumber Company.
Morgan, Murray. The Last Wilderness. Seattle: University of Washington Press, 1955.
This history of the Olympic Peninsula describes several chapters of the area's past, including the establishment of important mills at Port Blakely and Shelton and the creation of Olympic National Park.
Price, Andrew. Port Blakely: The Community Captain Renton Built. Seattle: [City of] Port Blakely, 1990.
A local history of Port Blakely and its founder, Captain William Renton, a pioneer in Washington's lumber industry.
Prouty, Andrew Mason. More Deadly Than War! Pacific Coast Logging, 1827-1981. New York: Garland Publishing, 1985.
This history of Pacific Coast logging focuses on the evolution of various logging technologies, logging professions, and the occupational hazards associated with lumbering.
Pyle, Robert. Wintergreen: Rambles in a Ravaged Land. New York: Scribner, 1986.
An exploration of the Willapa Hills of southwestern Washington, the impact of forestry on this area's land and wildlife, and an assessment of the area's future. Pyle is sympathetic toward this timber-dependent region, but he does not condone the clearcutting practices of its logging companies.
Tyler, Robert L. Rebels of the Woods: The I.W.W. in the Pacific Northwest. Eugene: University of Oregon Press, 1967.
An overview of the Wobblies' organizing efforts in the Northwest, particularly in the lumber industry during the early twentieth century.
White, Richard. Land Use, Environment, and Social Change: The Shaping of Island County, Washington. Seattle: University of Washington Press, 1980.
An environmental history of Whidbey and Camano Islands. White explores how social change intersected with environmental change, examining the processes by which humans shaped the islands, including their forests.
Williams, Michael. Americans and Their Forests: A Historical Geography. New York: Cambridge University Press, 1989.
A sweeping overview of American forest history from before the arrival of Europeans to the late twentieth century. Williams provides a broad, national context from which to explore Washington's forest history.
Videos offer another way for students to engage the history of forests and logging. All of the following films are suitable for middle school and high school audiences. Some of the videos may be difficult to obtain for classroom use. The University of Washington libraries own all these films, but they do not lend them out via interlibrary loan. People with UW borrowing privileges may check them out, and members of the general public can view them inside the UW libraries. In addition, the University of Washington Educational Media Collection rents some of these films to schools. For more details, visit http://www.lib.washington.edu/media/.
Ancient Forests: Rage Over Trees. Directed by James Lipscomb. Produced by the National Audubon Society, Turner Broadcasting Systems, and WETA Television, Washington, D.C., 1990. 60 minutes.
Examines the struggle between logging companies and environmental organizations over the Pacific Northwest's old-growth forests. Though fairly sympathetic to loggers, the film takes the environmentalists' point of view.
Critical Habitat. Produced and directed by Alan Honick. Broadcast by KCTS Television, Seattle, 1994. 90 minutes.
Explores the battle over the preservation of old-growth forests on the West Coast. The film attempts to be balanced, presenting environmentalists' and timber interests' points of view.
Forest Wars. Directed by Roger Brown and Nicolas Brown. Produced for the Earth Vision Institute by Summit Films, 1996. 72 minutes.
Examines the dilemma of sustaining American forests and the U.S. wood products industry that relies on them. The film is critical of environmentalists and sympathetic to timber-dependent communities.
Gloom and Doom or Opportunity? Forestry and Wood Products in the Northwest. Directed by Con Schallau. Produced by the Communication Media Center, Oregon State University, Corvallis. 1985. 15 minutes.
In its own words, this film aims to present "statistics that support the hypothesis that the timber industry in the Northwest will be viable in future, not a dead end as predicted in the news media."
The God Squad and the Case of the Spotted Owl. Directed by Emily Hart. Bullfrog Films, Oley, Pennsylvania, 2001. 57 minutes.
A documentary focusing on the Endangered Species Committee proceedings about the Northern Spotted Owl and proposed federal timber sales in southwest Oregon, presented through interviews with participants in the dispute. This controversy was a microcosm of the larger debate concerning the fate of the Pacific Northwest's old-growth forests.
Natural Timber Country. Produced and directed by Ron Finne, 1973. 52 minutes.
A very interesting documentary about the history of logging in the Pacific Northwest. The film relies on interviews with retired loggers and archival footage of logging operations. It documents the transition from bull teams to donkey engines to modern power equipment. The film allows students to see equipment like donkey engines in action and to hear loggers lament the loss of the huge trees that they cut down.
Strong Stand. Produced for the Washington State Department of Natural Resources by Eagle Productions, Olympia, 1991. 14 minutes.
Describes the problems of forest management and the role of the Washington State Department of Natural Resources.
Wilderness: The Last Stand. A film by Ken Bailey, Nathaniel Kahn, Miranda Smith, and David Zieff. Miranda Smith Productions. Distributed by the Video Project, Oakland, California, 1993. 53 minutes.
Susan Sarandon narrates this documentary about the conflict over preserving old-growth forests. The film presents a wide range of opinions through interviews, but it primarily sympathizes with environmentalists.
American Forests: www.americanforests.org

Forest History Society: http://www.foresthistory.org/

Mount Rainier National Park: www.nps.gov/mora

Mountaineers: www.mountaineers.org

North Cascades National Park: www.nps.gov/noca

Northwest Forest Plan: www.or.blm.gov/ForestPlan/NWFPTitl.htm

Olympic National Park: www.nps.gov/olym

Sierra Club: www.sierraclub.org

United States Forest Service, Pacific Northwest Region: www.fs.fed.us/r6

University of Washington College of Forest Resources: www.cfr.washington.edu

Washington Contract Loggers Association: www.loggers.com

Washington Forest Protection Association: www.forestsandfish.com

Washington State Department of Natural Resources: www.dnr.wa.gov

Washington State Society of American Foresters: www.forestry.org

Weyerhaeuser: www.weyerhaeuser.com
D. Field Trips

A well-planned field trip can be an excellent way to get students thinking about history. Visits to historical sites or museums allow students to see with their own eyes how the past has shaped the present. All of the following institutions offer guided group tours of their facilities.
Charles Lathrop Pack Experimental and Demonstration Forest
Part of the University of Washington's College of Forest Resources, Pack Forest occupies 4,200 acres in Eatonville. It is the site of the UW's work in forest management and forest engineering. Pack Forest offers several interpretive trails that take visitors through a working forest.

9010 453rd Street East
Eatonville, WA 98328
(206) 685-4485 (toll free from Seattle)
(253) 552-4485 (toll free from Tacoma)
(360) 832-6534 (from other locales)
www.packforest.org
Cedar River Watershed
Field trips to the Cedar River Watershed provide information and activities about watersheds, the water cycle, cultural history, erosion, and forestry.

(206) 233-1515
Virtual tour of the Cedar River Watershed.
www.cityofseattle.net/util/cedarwatershed/tours.htm
The Bloedel Reserve
Formerly the home of Prentice Bloedel, a Northwest timber baron, the Bloedel Reserve is now an arboretum and natural reserve, occupying 150 acres on north Bainbridge Island. Eighty-four acres of the reserve are second-growth forest.
7571 NE Dolphin Drive
Bainbridge Island, WA 98110
(206) 842-7631
www.bloedelreserve.org
Camp Six Logging Museum
Located in Tacoma's Point Defiance Park, this museum is a replica of an early-twentieth-century logging camp. It also contains a restored logging locomotive, a donkey engine, and other artifacts from the logging industry.
(253) 752-0047
www.camp-6-museum.org/c6.html
Washington State History Museum
This museum contains paintings, artifacts, and other materials related to the history of Washington's forests and the logging industry. In 2001 the museum opened a history lab with several interactive exhibits designed for middle school students.
1911 Pacific Avenue
Tacoma, WA 98403
(253) 272-3500
www.wshs.org
Port Gamble Historic Museum
Port Gamble was a company town for Pope & Talbot's Puget Mill Company. After the mill closed in 1995, the old buildings were preserved, and the whole town was declared a National Historic Landmark. The Port Gamble Historic Museum displays heirlooms, artifacts, and photographs from the community's past. Group tours of the town and its museum are available by appointment.
PO Box 85
Port Gamble, WA 98354
(360) 297-8074
http://www.portgamble.com