CSPN: Upcoming Talk
by Edward D. Melillo
April 4, 2016 (Time and Location TBA)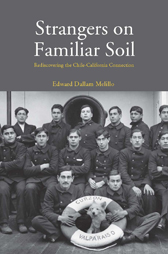 Professor Edward D. Melillo will talk about his new book, Strangers on Familiar Soil: Rediscovering the Chile-California Connection (Yale University Press, 2015). This groundbreaking history explores the many unrecognized, enduring linkages between the state of California and the country of Chile. The book begins in 1786, when a French expedition brought the potato from Chile to California, and it concludes with Chilean president Michelle Bachelet's diplomatic visit to the Golden State in 2008. During the intervening centuries, new crops, foods, fertilizers, mining technologies, laborers, and ideas from Chile radically altered California's development. In turn, Californian systems of servitude, exotic species, educational programs, and capitalist development strategies dramatically shaped Chilean history.
Edward D. Melillo is Associate Professor of history and environmental studies at Amherst College. He teaches courses on global environmental history, the history of the Pacific World, and commodities in world historical perspective.
For more information and to order, please visit:
http://yalepress.yale.edu/book.asp?isbn=9780300206623l
UW History Lecture Series
The 2016 History Lecture Series with John M. Findlay, Quintard Taylor, Linda Nash, and James N. Gregory.
The series begins on January 13 and continues on Wednesday evenings through February 3. All lectures begin at 7:30 p.m. and will be held in Kane Hall, room 130.
Seattle's remarkable past encompasses the stories of Native Americans and pioneers, labor agitators and civil rights activists, loggers and environmentalists, aircraft riverters and software moguls. In this signature series of lectures, four UW scholars chart the social worlds, environments, and political conflicts that shaped the city's past and its present. Presented by the University of Washington Department of History and the UW Alumni Association, with introductory remarks by four former Seattle mayors.
For more information on specific lectures and to purchase tickets, please visit:
https://www.washington.edu/alumni/history/
THE PERSISTENCE OF PROGRESSIVISM:
James Ellis and the Forward Thrust Campaign, 1968-1970
by William H. Mullins

James Ellis was frustrated. It was the mid-1960s, and Seattle was poised for growth. Boeing was rapidly expanding. The successful 1962 Seattle world's fair had given the city a jolt of energy and greater confidence. By 1965 forecasters were predicting that King County's population might double to two million in 20 years. The most optimistic economists thought the state could gain 60,000 jobs every year, most of them along the newly completed segment of Interstate 5 running between Tacoma and Everett through Seattle. Ellis fretted that the region was doing little to prepare for growth. In Seattle a weak-mayor–strong-council city government had sapped municipal initiative for years. Even as they made mild attempts at reform, Mayor Dorm Braman and the Seattle City Council acted like risk-averse investors when faced with any significant expenditures. In addition, King County's government needed streamlining.
Click here to read the rest of the article.
NEW BOOK from UW Press
Trout Culture: How Fly Fishing Forever Changed the Rocky Mountain West
by Jen Corrinne Brown
Emil and Kathleen Sick Book Series in Western History and Biography
University of Washington Press announces the publication of Trout Culture: How Fly Fishing Forever Changed the Rocky Mountain West, by Jen Corrinne Brown, the newest title in the Emil and Kathleen Sick Book Series in Western History and Biography.
From beer labels to literary classics like A River Runs Through It, trout fishing is a beloved feature of the iconography of the American West. But as Jen Brown demonstrates in Trout Culture, the popular conception of Rocky Mountain trout fishing as a quintessential experience of communion with nature belies the sport's long history of environmental manipulation, engineering, and, ultimately, transformation. 

A fly-fishing enthusiast herself, Brown places the rise of recreational trout fishing in a local and global context. Globally, she shows how the European sport of fly-fishing came to be a defining, tourist-attracting feature of the expanding 19th-century American West. Locally, she traces the way that the burgeoning fly-fishing tourist industry shaped the environmental, economic, and social development of the Western United States: introducing and stocking favored fish species, eradicating the less favored native "trash fish," changing the courses of waterways, and leading to conflicts with Native Americans' fishing and territorial rights. Through this analysis, Brown demonstrates that the majestic trout streams often considered a timeless feature of the American West are in fact the product of countless human interventions adding up to a profound manipulation of the Rocky Mountain environment.
Jen Corrinne Brown is professional assistant professor of history at Texas A&M University in Corpus Christi.
For more information and to order, please visit:
www.washington.edu/uwpress/search/books/BROTRO.html

Going Digital

: PNQ Now Available on JSTOR
Go Online to Get Issues through 2009
We are pleased to announce that back issues of Pacific Northwest Quarterly are now available online through JSTOR, a not-for-profit digital archive containing more than 1,000 academic journals and other scholarly content. If you belong to an institution that subscribes to this collection, you can access the publication directly at www.jstor.org. You will be able to search, browse, download, and print the full-text PDF versions of all articles in back issues of PNQ, from its first year of publication in 1906 through early 2009.
Please note: you may still view and download full-text versions of articles from all 26 volumes of Washington Historical Quarterly for free on the University of Washington Libraries website, https://digital.lib.washington.edu/ojs/index.php/WHQ.
Contact Us for Recent Issues and Hard Copies
Issues from the last few years are not available on JSTOR. We have chosen to exclude our current material from the archives to help ensure PNQ's continued economic success. To order articles from the last five years, or if you do not belong to an institution that participates in JSTOR, please submit an order electronically on our website at http://www.cspn.washington.edu/PNQ/Order.html, or find an order form in your copy of the journal to be submitted by mail.

Labor Archives of Washington State
LAWS includes more than 200 separate collections of labor-related materials. In volume, the collections exceed 3,000 cubic feet of documents, photographs, and other archival material.
In volume, size, and scope, LAWS is one of the largest repositories of labor history in the United States.