NEWS
The Rising Tide of Color: Race, State Violence, and Radical Movements across the Pacific
Edited by Moon-Ho Jung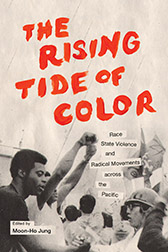 CSPN and the University of Washington Press announce the newest book in the Emil and Kathleen Sick Book Series in Western History and Biography.

The Rising Tide of Color challenges familiar narratives of race in American history that all too often present the U.S. state as a benevolent force in struggles against white supremacy, especially in the South. Featuring a wide range of scholars specializing in American history and ethnic studies, this powerful collection of essays highlights historical moments and movements on the Pacific Coast and across the Pacific to reveal a different story of race and politics. From labor and anticolonial activists around World War I and multiracial campaigns by anarchists and communists in the 1930s to the policing of race and sexuality after World War II and transpacific movements against the Vietnam War, The Rising Tide of Color brings to light histories of race, state violence, and radical movements that continue to shape our world in the twenty-first century.

More about the book and ordering information can be found here.


Going Digital

: PNQ Now Available on JSTOR
Go Online to Get Issues through 2008
We are pleased to announce that back issues of Pacific Northwest Quarterly are now available online through JSTOR, a not-for-profit digital archive containing more than 1,000 academic journals and other scholarly content. If you belong to an institution that subscribes to this collection, you can access the publication directly at www.jstor.org. You will be able to search, browse, download, and print the full-text PDF versions of all articles in back issues of PNQ, from its first year of publication in 1906 through early 2008.
Please note: you may still view and download full-text versions of articles from all 26 volumes of Washington Historical Quarterly for free on the University of Washington Libraries website, https://digital.lib.washington.edu/ojs/index.php/WHQ.
Contact Us for Recent Issues and Hard Copies
Issues from the last few years are not available on JSTOR. We have chosen to exclude our current material from the archives to help ensure PNQ's continued economic success. To order articles from the last five years, or if you do not belong to an institution that participates in JSTOR, please submit an order electronically on our website at http://www.cspn.washington.edu/PNQ/Order.html, or find an order form in your copy of the journal to be submitted by mail.

Labor Archives of Washington State
LAWS includes more than 200 separate collections of labor-related materials. In volume, the collections exceed 3,000 cubic feet of documents, photographs, and other archival material.
In volume, size, and scope, LAWS is one of the largest repositories of labor history in the United States.