⇒
⇐
Location
Surplus Store and Auctions
Plant Services Building
4515 25th Ave NE
Seattle, WA 98105-4280
– – – – – – – – – – – – – – – – – – – –

Bus Service
There are three bus stops closest to us: 1.) 25th Ave NE & NE 47th St northbound (the 372), 2.) 25th Ave NE & 47th St southbound (the 372), and 3.) Montlake Blvd NE & NE 45th St (the 25, 31, 32, 65 & 75).


Coming from the north via I-5 southbound
From I-5 southbound, take Exit 172 toward NE 80th Street. Turn left at NE 80th Street. Take the first right onto Banner Way NE. Continue onto NE 75th Street. Turn right at 25th Ave NE.


Coming from the south via I-5 northbound
From I-5 northbound, take Exit 168B to merge onto WA-520E toward Bellevue/ Kirkland. Take the Montlake Blvd Exit toward the University of Washington. Turn left at Montlake Blvd East. Take slight left at 25th Ave NE.


Coming from the east via I-90 westbound
From I-90 westbound, take Exit 10 to merge onto I-405N toward Bellevue. Take Exit 14 to merge onto WA-520W toward Seattle. Take the Montlake Blvd Exit. Merge onto Montlake Blvd East. Take the slight left at 25th Ave NE.


Helpful notes
1.) NE 45th St runs ABOVE 25th Ave NE and will require you to loop around to the right in order for you to access 25th Ave NE (see map).
2.) Montlake Blvd becomes 25th Ave NE if you stay to the left.
3.) Please note that the 520 bridge is now a toll bridge.

Parking information
Free nearby side street parking is available on an as-you-can-find-it basis. 30-minute load/unload-only parking (on Public Store & Auction dates) is available in designated areas in front of the Public Store. The best parking location may be found at the nearby UW N25 lot (just to the south of us), where there is a public pay station. PLEASE NOTE: The pay station machine accepts credit cards only – no cash. University permit lots nearest us: N25, E1, and E2. For our walking & biking friends, the Burke-Gilman Trail goes directly behind the Plant Services Building. PLEASE NOTE: we do not have any parking arrangements with University Village nor do we condone parking in their lots. Please understand that parking in University Village lots if you are not a customer there carries a risk of ticketing, towing, and/ or impounding.
For your convenience, you have one week to pick up and remove any items purchased on a Tuesday Public Store day!


Accessibility services
The University of Washington is committed to providing access, equal opportunity, and reasonable accommodation in its services, programs, activities, education, and employment for individuals with disabilities. To request disability accommodation, contact the Disability Services Office at least ten days in advance at:206/543-6450 (voice); 206/543-6452 (TTY); 206/685-7264 (FAX); or dso@u.washington.edu br>
<
div id="leftSlide">

View UW Surplus Store & Auctions in a larger map The N25 Lot is your best bet for parking!

Entrance to UW Lot N25, accessed via Pend Oreille Road.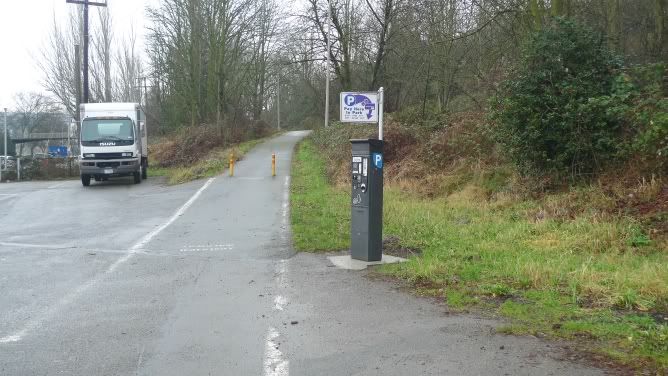 There is a public pay station in UW lot N25. The lot is just to the south of us.

View from UW Lot N25 looking north, toward the Plant Services Building. The viaduct shown is NE 45th Street.