Council Updates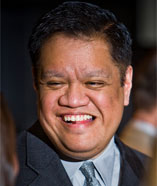 Chair Joe Santos
The UW Bothell Alumni Council is pleased to announce its 2010-11 slate of officers. Congratulations to the following:
UW Bothell Alumni Council 2010-11:
Chair: Joe Santos (Liberal Studies, '97)
Chair-elect: Mary Howisey (IAS, '02)
Secretary: Michelle Gamboa (CSS, '05)
Past chair: Calvin Kavalski (Liberal Studies, '97, MBA, '03)
Committee Chairs:
Awards & Recognition: Chris Wille (Business, '04)
Membership & Marketing: Jeffrey Siegel (MBA, '08)
Legacy & Spirit: Emiy Anderson (IAS, '09)
Program Representatives:
Business representative: Melissa Lowe (Business, '10)
IAS representative: Curtis Takahashi (IAS, '04)
Business (MBA) representative: Eric Helzer (MBA, '06)
Education (MEd) representative: Vicky North (M.Ed., '08)
Policy Study (MAPS) representative: Daniel C. Molvik (MAPS, '07)
At-Large Advisory Board:
Bob Bernstein (MBA '09), Jennifer Coles (IAS '08), Mike Collins (Liberal Studies '94), Annette Floyd (Business '10), Michelle Huynh (MBA '10), Katherine Kloster (BS '99), Jeremy Reichelt (Business '04), and Glen Williams (Business '02).
All posts begin July 1, 2010 and extend through June 30, 2011.
The UW Bothell Alumni Council represents the institution's over 9,000 graduates, and in partnership with the University of Washington Alumni Association (UWAA) provides an array of services, events, and opportunities to maintain a connection to the UW family. The Past Chair Calvin Kavalaski of the UW Bothell Alumni Council will serves as a member of UWAA's Board of Trustees.
The Council encourages you to get involved by attending meetings, participating on committees and working and attending many of the upcoming events! The Council meetings are the first Tuesday of each month, September through June on the UW Bothell campus. Open positions include: CSS, Nursing BSN, Nursing MN, T Cert program representatives and an Annual Events & Programs Chair. Get more information and position descriptions.
The Council looks forward to seeing you!