Catch Up With '02 Gates Scholars Jasmin Weaver & Noah Purcell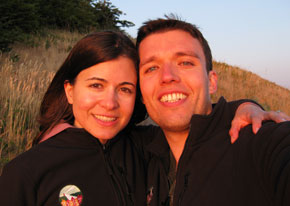 Gates Scholar alumni Jasmin Weaver & Noah Purcell
Jasmin Weaver, '02, and Noah Purcell, '02, are both Mary Gates Scholar alumni from Seattle. After meeting at Franklin High School, they started dating their sophomore year and entered the UW together where they received Mary Gates Leadership Awards to bolster their work with Affordable Tuition Now! (ATN!) a student organization they co-founded and ran. Jasmin also received a Mary Gates Research Scholarship for her research at the Center for American Politics and Public Policy (CAPPP), where she wrote a paper titled "Agenda Setting: Who Sets the President's Agenda, the President or the Public?" which she presented at the 2002 Undergraduate Research Symposium. She was Associated Students of the University of Washington (ASUW) president from 2000-01; Noah was on the ASUW Board of Directors from 1999-2000. The pair recently moved back to Seattle, and Jasmin shared with UAA what she and Noah have been up to since graduation and how their UW experiences led them to where they are today.
How did you use your scholarship, and what did it help you achieve?
Noah and I worked part-time jobs while attending UW (Noah worked in the deli at a PCC grocery store, and I worked at the Media Center in Odegaard Library), and the funding from the Mary Gates Endowment scholarships allowed us to devote more time to our activities on campus.
I used my research grant to work as an Undergraduate Fellow at CAPPP, [where] I mainly worked on the Policy Agendas project. This project involves updating extensive databases tracking issues in over two hundred national policy areas. The databases include information on press coverage, congressional hearings, congressional bills, public laws, spending and court decisions. These databases are then used by UW professors, students and scholars from around the world to carry out research on American politics. During my fellowship year I also worked with faculty to carry out my own research project, which focused on whether state of the union speeches have any effect on the congressional agenda. [The project] gave me an important foundation in public policy research and analysis that I have used both professionally and in graduate school.
The leadership grants we both received allowed us to devote the time necessary to create ATN!, which quickly grew into one of the largest student groups at UW, with over 6,000 members. Our work creating and leading ATN! taught us how to rally people to influence the state legislature about important policy issues. An important experience for both of us was when the UW imposed an "energy surcharge" in 2001 and I, with the support of ATN!, went to court to block it (Jasmin Weaver vs. UW Board of Regents, 2001). Noah did a lot of the research for the case and when we succeeded in getting the fee declared illegal, forcing UW to refund $1.5 million to students, it taught us both about the importance of knowing the law and having someone stand up to fight for it. Our work on ATN! also taught us an enormous amount about grassroots organizing and the political process, and helped us both learn how to channel our passion for social justice causes into community action.
A lot of students talk about affordable tuition but few do anything about it. Why did you?
Noah and I went to Franklin High School in Seattle, an inner-city public school where most of our fellow students were from low-income families in which neither parent had gone to college. We saw firsthand that many of our classmates did not go on to college because their families lacked the resources to pay for tuition, room and board and other expenses. That experience made us both committed to fighting to ensure that public colleges and universities in Washington remain affordable, and that public schools adequately prepare all students for college and give them the assistance they need to apply successfully. We are also both the kind of people who get involved in issues we feel passionate about—we try not to complain about things without doing something to try to fix them.
What specific experiences at UW influenced your career choice?
We participated in UW's Legislative Internship program in Olympia, working as interns for members of the state legislature, and were strongly influenced by that experience. I interned for Sen. Jeanne Kohl-Welles in 2000, and Noah interned for Sen. Karen Fraser in 2002. Through our work experiences in the senators' offices, our coursework for the program (led by Professor David Olson), and the internship program itself (led by Judi Best) we learned an immense amount about how our state government operates and how thoroughly it affects people's lives, and we became very interested in getting more involved, leading both of us to work in the legislature after graduation.
My research work in the political science department (especially with Professor Olson and Professor John Wilkerson) also made me interested in pursuing a graduate degree in public policy and prepared me for my recent work in Congress.
Both of us were also strongly influenced by our coursework and extracurricular activities in the philosophy department. Noah took a number of philosophy of law courses and found them fascinating, and we both participated in the UW Ethics Dawgs, a kind of debate team that participated in the Intercollegiate Ethics Bowl (which we won in 2000). Those courses and experiences made us think deeply about issues of public policy and want to get involved in them.
What have you been up to since graduation?
After graduating in 2002, Noah was campaign manager for Eric Pettigrew, helping him get elected to the state legislature in the 37th District. Noah then worked for Rep. Pettigrew in the legislature as his legislative assistant. Meanwhile, I was hired as legislative assistant to State Rep. Eileen Cody, Chair of the House Healthcare Committee.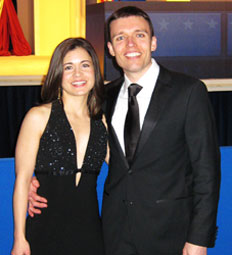 Weaver and Purcell at the '09 inaugural ball.




We worked in the legislature for just under a year, and then I received the George J. Mitchell Scholarship for a year of fully funded study in Ireland. We moved to Dublin in September 2003 (after getting married that July), and attended University College Dublin. I used my scholarship to fund a master's in equality studies (social policy), while Noah applied and was admitted to the UCD Economics Department, where he obtained a master's in economics.

After finishing our degrees at UCD, we both started graduate programs at Harvard in 2004. I received a master in public policy (MPP) from the John F. Kennedy School of Government in 2006, and Noah received a law degree in 2007. Noah graduated magna cum laude and was an editor of the Harvard Law Review.

When I finished my MPP in 2006 I obtained a Harvard Presidential Management Fellowship to work in Harvard's Office of Financial Strategy and Planning, allowing me to work on the higher education policy issues that I first became interested in at UW. I continued my work on financial aid policy and also prepared a report on the use of executive vice presidents at Harvard's peer universities, which ultimately led to Harvard creating an executive vice president position. In 2007 I became the financial analyst for Harvard's schools of Law, Business, Education and Government, preparing reports for Harvard's President, Corporation, and senior leadership on the budgets, financial plans, and goals of each school and the challenges and opportunities facing them.

When Noah finished law school in 2007 he was a law clerk to Judge David Tatel on the U.S. Court of Appeals for the D.C. Circuit until July 2008. Next, he was a law clerk to Supreme Court Justice David Souter (August 2008-August 2009). After finishing his clerkship, Noah worked in the Department of Homeland Security (DHS) General Counsel's Office, advising DHS components on a range of legal issues.

I moved to D.C. soon after Noah began his first clerkship, and from 2008 until last month I worked at Change to Win (CtW), a coalition of unions representing over 5 million members. For the last two years I was legislative director of healthcare initiatives at CtW, directing their legislative efforts on a range of healthcare issues at the local, state, and federal levels. I had the opportunity to testify in Congress and in a number of state legislatures.

What are your plans now?
Throughout our time away we had always hoped to move back to Seattle, as this is home for both of us and our families are both here. On the work front, Noah has just started working as an associate at the law firm Perkins Coie. I am not sure yet exactly what I am going to do next, but I hope to find a position working on the public policy issues I am passionate about for a nonprofit or public agency. Mostly, we are both looking forward to getting back involved in the Seattle and UW communities, and of course we are happy to be back in the beautiful Northwest; doing a lot of hiking, catching up with old friends and eating at our favorite local places.