Bonderman Fellowships Celebrate 15 Years of Travel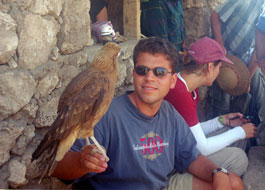 Bonderman Fellow alumni Gerick Bergsma
Ask a Bonderman travel fellow where she is going—or where he has been—and settle in for a fascinating conversation. You'll get a long list of exotic places from Papua New Guinea to Bosnia to Iceland to Botswana, along with invaluable travel tips. You'll learn how to lock your backpack to your bed at night to prevent theft and what to do if your credit card is stolen.

Each year, seven undergraduate Honorsstudents and seven UW graduate students are awarded Bonderman Travel Fellowships —worth $20,000 each. The catch? Each student must travel solo for eight months, to at least six countries in at least two regions of the world. Students are not permitted to pursue academic study, projects or research. Their charge is to simply travel, learn, explore and grow.
Last spring, we celebrated the 15th year of the Bonderman Travel Fellowships and the vision and generosity of David Bonderman, the UW alumnus who supports the fellowship.
Hear what Bonderman Fellow alumni like Gerick Bergsma, '00, (pictured above), have to say about their experiences in this audio slideshow produced for the 15th anniversary of the fellowships and learn about the 2010 Bonderman Travel Fellows.