Talking Music & Movies with James Keblas, '01
As director of Seattle's Office of Film and Music, James Keblas, '01, is responsible for creating a vibrant economic environment in Seattle for filmmakers, musicians and their surrounding industries. These industries bring revenue and jobs into the city and contribute to Seattle's cultural life. According to the office's Web site, "Seattle film productions in 2001 employed an overall total of 4,991 locals, contributing $471 million to our city's economy" and "in 2008, the music industry in Seattle directly creates 11,155 jobs, with 2,618 businesses generating an annual $1.2 billion in sales and $487 million in earnings."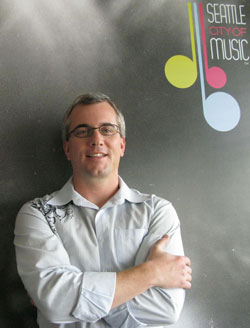 James Keblas

Appointed to this position by Seattle Mayor Greg Nickels in 2005, James cut his political teeth while a UW undergraduate majoring in community and environmental planning and minoring in urban design. As a Mary Gates Leadership Scholar, James co-founded the Vera Project, Seattle's all-ages music venue. Inspired by a government-supported, all-ages music venue called the Vera Club in Groningen, the Netherlands, that James learned about while studying abroad, Seattle's Vera Project turned 10 this year. Establishing a Seattle Vera Project required building partnerships with local politicians and the community, experience that has served James well in his current position. Following are excerpts from a recent interview with him.




Undergraduate Academic Affairs: You've talked about being inspired by the Vera Club in Groningen, the Netherlands, and wanting to bring something back here. What was it about bringing something back that struck a chord with you?

James Keblas: I picked up this sense of service and picked up this sense of contribution to community before I was at the University. There was a music venue in Pioneer Square that I started volunteering at called The Velvet Elvis. It was a small theater. Whenever the plays weren't happening it was a punk rock club. They'd do these great punk rock shows on the sets of the theater. It was very surreal and fun. I got really involved in that organization and it kind of changed my life. [Before that,] I didn't understand what music could do to build community.

[Then] seeing this incredible place in the Netherlands and the impact that this one little venue had on the entire city was tremendous. [With the Mary Gates Leadership Scholarship,] for my senior year I was able to focus directly on this idea and really seized on the critical need for something like that in Seattle. It was a really strange time in Seattle because there were no more places for young people to see live music. There were literally none. There were these weird laws in place that prevented it. [The Vera Project was about] volunteerism and service and not just about "let's have a great music venue" but let's have a space where we make great people and we make community and we influence other things that are happening and change that whole dialogue.

UAA: Describe the Office of Film and Music and your work in it.

JK: It's easy to acknowledge that Seattle is a great place to make film and a great place to make music. My job is to make Seattle a great place to make a living making film and making music. So we're really focused on trying to create an environment economically where people can do that kind of great work.

For instance, last July we passed an admissions-tax exemption for live music venues so they don't have to pay that tax during these hard times. Hopefully that encourages more live music venues to open up, which then gives more opportunities for musicians to perform, which then creates more audiences for enjoying live music, which then connects those audiences to those performers.

We're doing things like supporting film incentives that encourage out-of-state productions to film here and our young, ambitious filmmakers that are here now, incentivizing them to stay here and make their films. So it's very wonky and political but it's stuff that really is game-changing and can actually make a difference overnight.

And then we kind of market the hell out of the city of Seattle. We make sure that the rest of the world is thinking about Seattle when they're thinking about film and music.

2008 was the first year where we saw growth [in Seattle-based film production]. And it's all based on incentives. So that's my office working with the state, going down to Olympia, lobbying, getting the industry folks organized, the vendors, the talent, the crew, unions, creating agendas, pushing things forward and navigating all the politics that come at you when you're trying to do that kind of work.

UAA: What's been surprising for you about the work?

JK: When I first started this job, this was an Office in Film and Music in name only. The two industries didn't speak to one another. And I just felt like that was unfortunate and needed to be changed right away. That's when we started the happy hours that we do every month where we network filmmakers and musicians and even digital media folks now. I was surprised at the resistance I got when I first tried to do that. The music folks were saying I don't really care about film, and the film folks were saying I don't really care about music. Now you don't hear that at all.

We did this survey of our happy hours and found 18 new items of business that started at them that wouldn't have started otherwise and many of those were film to music. They weren't music to music or film to film. They were people meeting for the first time, having a conversation, exchanging business cards and work starts.

UAA: The incentives you were mentioning sound like one particular highlight from your tenure. Are there others you'd like to share?

JK: One of the moments I'm really proud of is the City of Music Initiative. It was really frustrating with music initially because while we have that in the title we weren't doing much, to be honest. I felt like I needed to educate myself in film and that also needed the most support so I worked a lot on that. After a couple years of that I decided it was either time to build up the music part of this or let it go. Maybe we shouldn't be the Office of Film and Music because we can't meet the expectation and it's really frustrating for everybody. So I made the proposal to the mayor of either give me increased capacity in terms of staffing and support music equal to film or let's just get rid of it. I objectively gave him this information. Luckily he made the decision to increase the staffing for it.

Then I convened about 25 people in the music industry of varying levels: recording studios, radio, artists, managers, the whole spectrum and we met about four to five times [in 2007 and] talked about the strengths and weaknesses of Seattle's music industry. We looked at other great American music cities and through that process started developing a vision for what we wanted to do here in Seattle. [That] spawned the Seattle City of Music initiative, built on these three pillars of being a city of musicians, a city of live music and a city of music business.

UAA: Who should we be watching in Seattle's film and music industries? Tell us your top five for each. Film first.

Lynn Shelton. She's going to go off and change the world with her movies. And she's committed to Seattle which makes me love her all the more.

David Russo made a feature film last year that premiered at Sundance this year called The Immaculate Conception of Little Dizzle. It is so imaginative and it's so unique. I just love that we have someone like him that is so odd and so bright at the same time that can make something like that and make it work.

Rob DeVore is another filmmaker who I think is really good.

There's no question that Bao Tran is going to have massive success. I'm working really hard to try to keep him in Seattle and show him that we love him and that he can't leave us.

Douglas Horn made a short film called Full Disclosure and it is brilliant.

[For music] I really like the Maldives. I think they have a great sound.

The Moon Doggies are so odd and great, they make me very happy.

This is a group that isn't in Seattle but they're on Barsuk Records which is a record label in Seattle I love, and they're Mates of State. I think they had one of the best records of last year.

I'm really excited about Light in the Attic Records and what they're doing with the Weedles Groove. Weedles Groove is so good. They just put out a new record of all these old timers who were doing soul music in Seattle in the late '60s early '70s and they never really got their due. It's like Buena Vista Social Club for Seattle soul.

I'm really excited about D. Black and Sportin' Life Records. Sportin' Life Records is the freshest thing coming out of Seattle for hip hop and D. Black is this young, good guy that is making great music and they are so much fun.

To get involved in Seattle's Office of Film and Music, start by signing up for the weekly newsletter.