In Memoriam: Jennifer Caldwell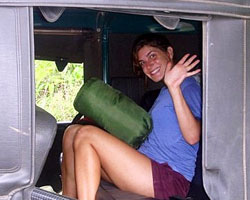 Jennifer Caldwell
On Sept. 14, UW alumna, Honors Program alumna and Bonderman Fellow Jennifer Caldwell, '07, died in a traffic accident in Pretoria, South Africa. Jen's short life epitomized the best of what UW students can be; she triumphed over significant personal adversity to come to the University, was a brilliant student who sought to wring the maximum benefit from her education, and she saw her education not as an end in itself, nor as a stepping stone to a well-paying career, but as a tool to be employed in numerous social justice struggles.
Jennifer Caldwell
Jen believed "the secret to life is living it"—and she lived it with passion! Jen advocated for human rights in Guatemala, became a scuba dive master in Honduras, and danced in Brazil's Carnaval. She drove through western and southern Africa, posed for photos with armed ninjas in the jungle, was kicked out of Kinshasa, Congo, and got caught in the Congo for weeks. Her commitment to fair trade in tourism kept her volunteering in South Africa, where she believed she could make a difference—and she did. Jen is mourned by friends and loved ones on six continents, who will always remember her vivacious nature, fearless spirit and dedication to causes she believed in.
The Jennifer Caldwell Memorial Fund has been established to make financial support available to students who are pursuing work on topic areas that Jen cared deeply about—such as fair trade, human rights and women's rights—particularly if they are interested in doing this in an international context. If you are interested in making a donation please visit the Jennifer Caldwell Memorial Fund page.