MLK Day of Service 2009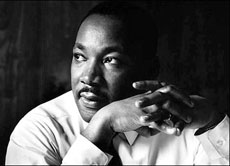 Martin Luther King Jr.
On Jan. 19, 2009, the University of Washington will join Americans across the country and honor Dr. Martin Luther King Jr.'s legacy of tolerance, peace, and equality by meeting community needs and making the holiday a day ON, not a day OFF.
The Day of Service is a palpable expression of the University's values. "We teach and learn in service to others," says Ed Taylor, vice provost and dean of Undergraduate Academic Affairs. "We research and discover in service to others. These are interdependent parts of our mission."
The University of Washington has sponsored the Martin Luther King Jr. Day of Service since 2001, and this is the fourth year that the Carlson Leadership & Public Service Center has coordinated the event in partnership with the United Way of King County. In 2008, 1,200 UW students, staff, faculty and alumni fanned out across the county to complete 50 volunteer projects at 47 agencies. This year, the goal is for record participation of 1,600 volunteers. With 68 projects from 60 nonprofit organizations around the greater Seattle area, this year promises to be a memorable Day of Service.
Past projects include painting a children's playroom at an area shelter, cleaning apartments for residents at Hilltop House Retirement Residence and assisting with Martin Luther King Jr. focused workshops at Franklin High School.
Rachel Ogimachi, a UW student who participated in 2008 feels very passionate about her experience with the Day of Service: "I love the MLK Day of Service because of the sense of unity and shared purpose it fosters within our academic, local and national community. I think these kinds of service opportunities reshape our perspective, helping us see beyond individual concerns and recognize our interdependence and responsibility to one another."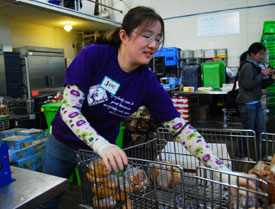 UW student June Peng sorts food at the Northwest Harvest Cherry Street Food Bank during MLK Day of Service 2008.
This year, Seattle EarthCorps is featured as the alumni project for the Day of Service. Alumni are encouraged to participate with their family and friends, teaming up with students and others in the University community to restore the urban forest of the Cheasty Greenspace in the Beacon Hill neighborhood.
Volunteers will prepare restoration sites for planting, remove invasive plants, plant native trees, shrubs and groundcover and maintain the site by weeding and spreading mulch.
"For EarthCorps, partnering with the University of Washington's Carlson Center on projects such as the MLK Day of Service is a natural fit," says Chris LaPointe, Volunteer Program Manager for EarthCorps. "On one level, this partnership is well aligned with our mission, which is to build global community through local environmental service. On another level, MLK Day of Service in particular is a great example of how UW students, faculty and alumni can not only assist EarthCorps to reach lofty restoration goals but also learn how easy, fun and important service and giving back to the community can be."
Campus and community leaders, including Taylor and United Way of King County Chief Executive Officer Jon Fine, will kick off the Day of Service at 8 a.m. in the HUB Ballroom on the UW campus. A continental breakfast will be available until 9 a.m., when volunteer teams depart for project sites. The service work begins at 9:30 a.m. and concludes at 3 p.m. Volunteers should dress in comfortable clothing appropriate for the type of work they will be doing.
Online volunteer registration closes on Thursday, Jan. 15.
For more info or to register to volunteer, please visit: http://depts.washington.edu/mlkjr/