UW Honors Student Aids Chinese Earthquake Victims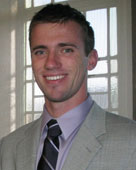 Steve Margitan
As a University of Washington junior, Steve Margitan was studying Chinese language in Chengdu (Sichuan, China) when the 2008 Sichuan earthquake hit. Steve is a University Honors Program student completing an honors degree in economics and a degree in international studies. He was excited to spend a year abroad in China, but had no idea of the life experiences it would bring.
In fine Seattle tradition, Steve and some fellow UW exchange students were studying in a coffee shop in Chengdu on May 12, 2008 when the quake hit. Steve recalls: "The shaking was stronger than the Seattle quake [the Nisqually earthquake of 2001] and lasted for a much longer period of time. Buildings everywhere emptied and people took to the streets for safety while trying to call family and friends (the phone network was quickly overloaded, though, so no one could make calls)."
But it wasn't until the next day when he saw lines everywhere as people tried to obtain water that Steve realized how severely the earthquake affected lives in Sichuan. While Chengdu is located about 50 miles southeast of the epicenter, the effects of the quake were drastic. It was then that Steve, with his friend and fellow Honors Program student Geoff Morgan, founded China Earthquake Aid. Steve said he simply had to help.
Steve is still amazed at the outpouring of support their fund drive received from the University of Washington community. With the help of other students, staff members and faculty, along with The Foundation for International Understanding Through Students (based at the UW), China Earthquake Aid raised approximately $65,000.
Steve and his collaborators then worked with local schools in Chengdu to determine the types of supplies needed. With the money they raised, China Earthquake Aid was able to purchase and distribute supplies for children as well as clothing for adults.
Now back in the United States, Steve is in his senior year and was a campus nominee for a Rhodes Scholarship, a Marshall Scholarship and is a candidate for the Gates Cambridge Scholarship. Inspired by his relief efforts in Sichuan and his UW coursework, Steve has applied to a number of graduate programs to work on international development issues.