Enhanced Building Security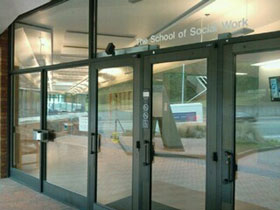 New public access hours will improve building security.
In response to requests from Social Work students, faculty, staff, alumni and other building visitors, the School of Social Work building will now be secured outside of normal business hours. This system will provide a much needed measure of security for our constituents.
Public hours for open building access are:
Monday-Friday: 7:45 a.m.-6 p.m.
Saturday: 7:45 a.m.-5 p.m.
Sundays: building closed
The building will remain open for scheduled special events and lectures. Outside of these times, the building can be accessed by SSW faculty, staff and students with a valid UW Husky ID Card via card-swipe machines at the south ground-floor entrance and the north first-floor entrance.