MSW Grad Tries International Social Work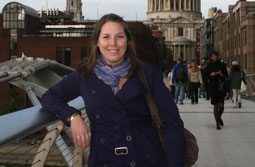 Ashlei Brooks during her time in England
After completing her MSW in 2005, Ashlei Brooks (now a social worker at Seattle's Children's Hospital) seized an opportunity to work in the field and gain a different perspective on social work. She took a job in England working with children with disabilities.
"I really enjoyed the work, but the profession is really restrictive in England," Ashlei said. "You're often working for the government and there's not much variability within the job."
After fulfilling her two-year agreement with the government agency that hired her, Ashlei stayed for two more years, working as a hospital-based social worker for a charity organization. There, her caseload was often between 50-60 active cases at a time.
"They're just desperate for social workers," says Ashlei, who learned that England imports many of their social workers from the United States and Canada.
Ashlei enjoyed the job and would recommend the experience to current students and graduates, but was more than happy to move back to the states and find work at Children's (where she completed her practicums). "It's nice to see a lot of familiar faces," she says.