Students in the News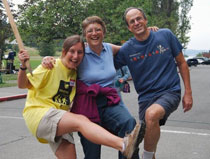 Becker, left, with Sound Steps participants
Marigrace Becker Helps Elders Hit Their Stride
Sound Steps began six years ago as a grant from the Centers for Disease Control that was designed to reduce the incidence of obesity and diabetes in people over 50 by encouraging exercise. Walking groups are now all over the area—operating out of parks, churches and senior centers as well as community centers.
Although she's only 29, Marigrace Becker has found a passion in working with elders. It all started shortly after she got her bachelor's degree and went to Zimbabwe. "It struck me how much more respect elders got there, and how much more integrated into society they were," she said. More...
For more information, visit sound.steps@seattle.gov
Carrie Moylan
Carrie Moylan Named the 2010-11 Magnuson Award Nominee
Each year the six University of Washington Health Sciences Schools nominate a student for selection as a Magnuson Scholar for the coming academic year. Selection criteria are academic performance and the student's potential for contribution to research in the health sciences. There were several very impressive applicants this year, and the SSW Ph.D. Program Awards Committee has selected Carrie Moylan as its 2010-11 Magnuson Award Nominee.
A description of Carrie's work from her statement of purpose: "My current research is investigating a multidisciplinary model of providing services to victims of sexual assault, an experience that brings victims into contact with numerous service systems, including the health care, criminal justice, social service and mental health systems. Historically, these systems have operated independently, often creating a disjointed and confusing experience for victims. We have a unique opportunity to better understand how victims are affected by the services they receive in the aftermath of an assault and how multidisciplinary services can improve victims' experiences and outcomes.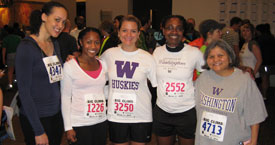 SSW team raised more than $1,200 for the Big Climb.
SSW Students & Staff Climb for Leukemia
A Social Work team of six students and staff members raised more than $1,200 for the local chapter of the Leukemia & Lymphoma Society and completed the stairclimb up the Columbia Center in downtown Seattle. The team climbed 69 flights of stairs, 1311 steps, and achieved 788 feet of vertical elevation.

Ibrahim Ali
MSW/MPH Student Elected to National Office
Ibrahim Ali was elected by the National Association of Black Social Workers as National Secretary, Office of Student Affairs, for the 2010-11 term. One of the nation's foremost advocacy groups established to address social issues and concerns of the black community, NABSW is composed of more than 100 membership chapters and more than 30 university and college student chapters throughout the continental United States and the Caribbean.