Celebrating Henry Maier's Passion for Teaching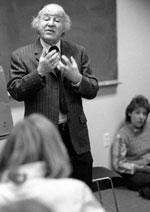 Professor Henry Maier
The Henry W. Maier Practitioner in Residence (PiR) program was established at the UW School of Social Work to honor the remarkable life of Henry Maier and his unique approach to social work. He was a skilled clinician, passionate professor, Fulbright Scholar and author on child development.
The Practitioner in Residence program brings students, faculty and community together to engage with a master clinician and teacher. This is a unique opportunity for participants to further develop both teaching and clinical skills in their work with children and families.

Marshall Jung
This year's PiR, Marshall Jung, DSW, will deliver a keynote address and hold two workshops from April 8-10 at the School. On Friday, April 8, the program kicks off with a keynote address and is open to all in the social work community. Participants will be treated to a complimentary buffet dinner and free parking. Workshops are open to SSW practicum instructors on April 9, and to students on April 10. CEUs are available at no cost; space is limited and early registration is encouraged. Participants must register to attend and more information can be found at: www.ssw.washington.edu/75/events/maier.