Professor Roger Roffman Retires After 37 Years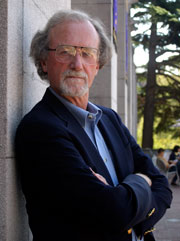 Professor Roger Roffman
"Dean Scott Briar recruited me in 1972 to establish a specialization in alcoholism and substance abuse," recalls Professor Roger Roffman, who's retiring after 37 years as a teacher and investigator focusing on social work practice interventions.
In 1986, Roffman established the Innovative Programs Research Group (IPRG). With grants from national and local sources, Roffman and his team have conducted studies evaluating interventions for adults and adolescents dependent on marijuana; women, teens and gay men at risk of HIV transmission due to unsafe sex practices, and men who abuse their partners.
The research group has adapted an innovative "check-up" intervention model designed to assist individuals in taking stock of their actions and exploring options in a nonjudgmental setting. "The theme of this research," explains Roffman, "is to understand, reach out to and serve people who are engaging in harmful behaviors, are ambivalent about what they are doing, but are not yet committed to change. Many experience stigma, shame and oppression."
Today, the research group's work is widely recognized — but not without some controversy. Some years ago one of its HIV prevention projects for gay/bisexual men angered conservatives in Congress who threatened to cut their funding. The University stood behind the project and the staff. "It's been a privilege to work in a setting that respects and upholds academic freedom, encourages intellectual curiosity, and values research on topics that may not be popular."
On the day after his October 1 retirement, Roffman and his wife, Professor Emeritus Cheryl Richey — who served on the School's faculty for 29 years — are traveling to the south of France. There, Roffman will continue work on a book focusing on his 40 years of research on marijuana.
We will miss you Roger!