Alumni in the News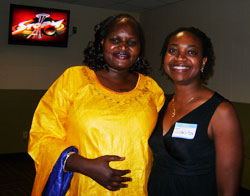 Agnes Oswaha, left, with Juanita Ricks, SSW admissions director.
Agnes Oswaha, MSW '09, was one of four 2009 Women of Inspiration honored at a recent Seattle Storms game. Oswaha co-founded the Southern Sudanese Women's Association, Hearts of Angels for Health and the Southern Sudanese Women's Association; is chair of the Sudanese Outreach for Save Darfur, Washington state; is a board member for South Sudan Women's Empowerment Network; a volunteer mentor for the Lost Boys and Girls of Sudan; a legal advocate at the Northwest Immigrant Rights Project; served on the Women's Funding Alliance BerMar Scholarship Committee, and currently serves at the Women's Funding Alliance Economic Opportunity grant committee.
Oswaha has recently been appointed the consular, social and community affairs officer for the government of South Sudan Mission to the United States in Washington, D.C., where she will be relocating with her family.
A. Tyler Perry, Ph.D '09, has been hired as senior policy analyst with the California Research Bureau (CRB), a division of the California State Library, located in Sacramento, Calif.. The CRB provides nonpartisan research services to the California governor and executive staff, to both houses of the legislature, and to other state elected officials. These services include preparing reports and memoranda on current policy issues that include such work as historical and inter-state comparative policy analyses, case studies and exemplars, qualitative and quantitative original and secondary data analyses, and development of legislative proposals. The CRB is also involved in special projects and events with partners in the legislature and various state agencies.
A study by Janice Sabin, MSW '01, Ph.D. '06, finds that "doctors often register unconscious blas against blacks." Read her original paper.