Alumni in the News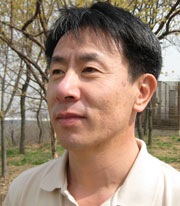 Inhoe Ku

Inhoe Ku, '00 Ph.D., has been appointed chair of the Department of Social Welfare at Seoul National University, which is considered a top research institution in South Korea. Professor Ku's research focuses on poverty, income inequality and social welfare policy, in particular, the effect of welfare on children's educational achievement.

"The Seoul National University Department of Social Welfare has long fostered a research-oriented focus, and is now one of the most competitive graduate programs in our country," Ku writes. "They contribute a large share of South Korean leaders in a broad array of social welfare settings, such as academic circles, research institutions, the press, the Ministry of Health & Welfare and social work institutions. The Department strives to cultivate professional human resources required for social welfare and to carry out research for a more advanced welfare system suitable for Korean society.

"I just want to express my sincere gratitude to all the mentors and colleagues for guiding me to the wonderful social welfare research."

Elayna J. Youchah, '83 MSW, joined Jackson Lewis LLP's Las Vegas office as partner. Youchah works with clients on matters arising under Title VII of the Civil Rights Act, the Americans with Disabilities Act, the Age Discrimination in Employment Act, the Family and Medical Leave Act, the Fair Labor Standards Act and state law matters. She is the fifth attorney to join Jackson Lewis' Las Vegas office since Jan. 1, 2009. Throughout her distinguished career, Youchah has received numerous awards and honors. She is a member of the Order of the Coif and the Hale Moot Court and the recipient of an American Jurisprudence Award. She has been recognized as a Leading Employment Lawyer in Chambers USA and named in Best Lawyers in America for Labor and Employment Law.

Elizabeth M. Tracy, ' 77 MSW, '88 Ph.D., has been named the Grace Longwell Coyle Chair in Social Work at the Mandel School of Applied Social Sciences, Case Western Reserve University. Oldest in the Mandel School, the Coyle Chair recognizes a scholar and educator whose work brings international renown to the school and attracts students from around the world. Tracy has an international reputation as a social welfare scholar, and among her most influential contributions are books she has co-authored with UW School of Social Work Professor Emeritus James Whittaker and Susan Kemp, Charles O. Cressey Endowed Associate Professor. Among them: Person-environment Practice: The Social Ecology of Interpersonal Helping. New York: Aldine de Gruyter, by Kemp, S., Whittaker, J.K., & Tracy, E.M. (1997).

While a graduate student at the UW, Tracy was selected for the University's highly prestigious Excellence in Teaching Award. Notably, she has been the recipient of an excellence in teaching award at the Mandel School as well.